Come on and Raid My Wardrobe, Newcastle!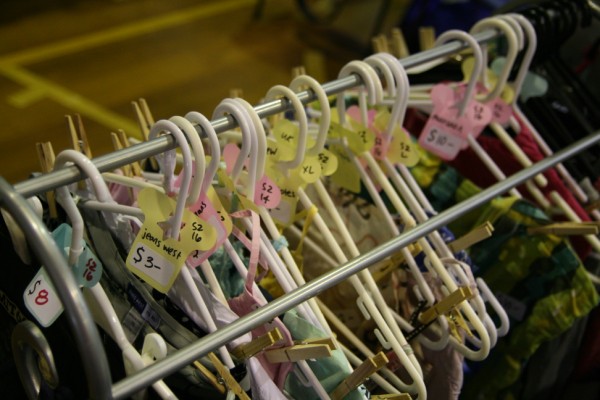 Raid My Wardrobe is an exciting fashion event happening this Sunday, 6 February at the Newcastle Basketball Stadium. It showcases delicious designer clothing, shoes and accessories, enticing you all to Raid My Wardrobe! (…not actually mine, but 45 other peoples…)
The event stemmed from the wardrobe of Rachel Prest who became a fan of refreshing, recycling and reinventing secondhand clothing during her less affluent times as a student. Rummaging her way through op shops across Sydney and later Auckland, Rachel was able to dress in a very well heeled manner, keeping up with quality designer fashion at reasonable prices.
After finishing her degree, and teaching for years, the time came for Rachel to refresh, recycle and reinvent her own life -  to pursue her interests and balance her wardrobe, her home life and a job she was passionate about. When I spoke with Rachel, she said that she's always had stuff in her wardrobe that she'd wanted to clear out, put on eBay, or sell at other markets, but thought it would take too much time and effort for little return. She thought "it would be awesome if we could just have one big hall set it all up, and people could come sell their stuff others and could shop" and Raid My Wardrobe was born.
With encouragement from her husband, Rachel transformed this idea into a simple, low cost and rewarding reality.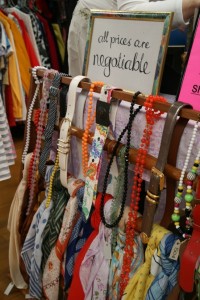 Rachel is more or less a one-woman army organising Raid My Wardrobe, but largely attributes her success to her husband and friends who have helped overcome the challenges of running the events (while also running around with her toddler). Another obstacle was coming up with the right name, something that would, again, be simple but it also needed to stand out. Photographer friend Ric Woods advised Rachel that her logo should be small enough to look good on anything from a bumper sticker to a billboard. The need for a billboard seemed shocking and unlikely at first, but now with increasing popularity and locations it could well be on the horizon. Raid My Wardrobe and all its logo-y goodness is professional, but personal enough to make you stop and think, "Hey, I could be a part of that".
And you could be! But you need to be organized, the stalls are in high demand; the event this Sunday was booked out a month before stall applications closed. Raid My Wardrobe stalls are full of high end brand clothing that might have only been worn once or twice before. There are quality control measures in place in the application process and also on the day.
Don't fret if you've missed out this time though, Rachel says that it's hard to pick whether it is most fun to have a stall or to simply shop. "At the first event I had a stall, because that was the whole idea of it! I shared one with a friend but I didn't get to help much because I was so busy running around with everything else. I would love to have a store, and just do it at that level. But now I've cleared out my main wardrobe, if friends have stalls I sell a few things with them" said Rachel.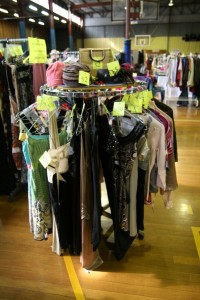 Even though she is busy organising the day Rachel insists she always manages to fit in a shop at the end of the day. In the last hour of the day many stalls reduce the price of their items, so while it's worthwhile to get there early to see everything on offer, coming later won't mean that you will miss out. Upon entry you will be given a directory of all the stalls, Rachel advises inspecting this, knowing what you're looking for and taking your time so you don't miss anything.
One of the most prized finds at Raid My Wardrobe was a collection of long ball gown dresses from the 1930s and 40s. Rachel said "they were made from fabrics, and decorated with things that you just don't see today. She has just collected stuff over the years so she is a very stylish lady. She came to Raid My Wardrobe because she thought 'now I can have people appreciate my wardrobe'. She was reinventing herself, so she's clearing out her stuff but she's quite excited because she's seeing her items off to people who appreciate them".
The concept of reinventing is central to Raid My Wardrobe, one ladies trash is another's treasure. It is therapy for the closet hoarder, the perfect way of clearing out clothes that you don't wear, while knowing they're going to a loving home. Buying second-hand is trendily eco-friendly too; it stops perfectly wearable clothes from wasting away as landfill. Many women who've taken the time to clear out their wardrobe for a stall, still don't want the unsold clothes, so Raid My Wardrobe has begun collaborating with different charities and at the end of each event the un-sold clothes are bagged up and given to charity. This time Raid My Wardrobe has lined up the Red Cross who will pass the clothes on to those who lost their clothes in the floods last month.
So now you know about this not-so-secret, go forth and peruse. Find some designer clothes for next to nothing and maybe even be inspired to have your own stall next time!
Event details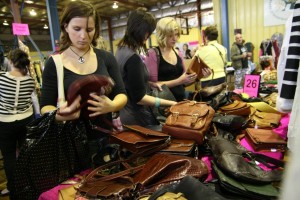 Location: Newcastle Basketball Stadium
Times: 10am - 2pm
Brands include: sneak peaks from local designers like High Tea with Mrs Woo and Guanabana, and also Mimco, Metalicus, Wayne Cooper, Alannah Hill, Pierre Cardin and D & G, Mink Pink, Veronika Maine, Sass and Bide, Charlie Brown, Cooper St, Saba, Ladakh, One Teaspoon, Bebe, Table Eight, Lee, Witchery, Cue, Insight, Guess, Jag, Liz Jordan, Country Road, Morrissey & Calvin Klein (sizes 6 - 26 + shoes available sizes 5 - 10).
WIN: a 2.5 hour Personal Colour Analysis valued at $235 by attending on 6 February! For more info, check out Love Your Look.
All images courtesy of Rachel Prest, Raid My Wardrobe.