Newcastle Markets: Hunt & Gather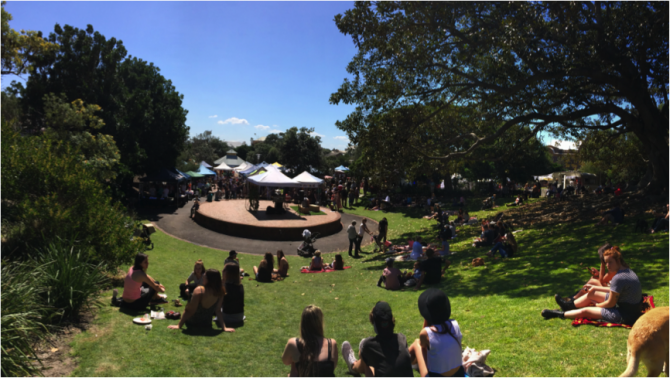 The third Saturday of every month, Pacific Park is brought to life by the Hunt & Gather Markets, one of the best boutique markets Newcastle has on offer.
As has become somewhat of a tradition for my oldest friend and I, we visit the markets every month and enjoy the wide array of food, clothes, accessories and music to suit anyone.
This past weekend, saw the markets on Saturday with Newcastle delivering near perfect weather. It was the busiest I have ever seen the markets and it's great to see they're bringing more people into town on the weekends.
The hill of Pacific Park was filled with people on blankets, sipping coffee and nibbling on food while enjoying the acoustic sounds of local musician, Horenco. A perfect start to the weekend, sitting in the sun, enjoying food and listening to Horenco perform various covers.
The food and drink on offer at the Hunt & Gather markets is the reason I religiously attend every time they're on. Aside from this, the eclectic mix of fashion and home wares add my love for these markets.
Parked up on the hill was Maudie Mac's travelling teahouse, perhaps the cutest conversion of a caravan into a catering van I have ever seen. Their Devonshire tea is a winner.
Doughheads made an appearance with their too good to be true doughnuts. I've never liked doughnuts until I tried one from these guys, and they've now become a staple for getting through uni assignments. The various flavours on offer included; Banoffee Pie, the Teaser, Maple Bacon, Turtle, Vanilla Bean Glaze and Cinnamon Sugar. The Banoffee Pie doughnut may well be one of the best flavor combinations in the world.
The masters of modern Mexican, Casa De Loco bring their food truck over with breakfast burritos, crunchy potatoes with chilli con carne, tacos and churros. They also make what I'm going to call the best drinks in Newcastle. The flavours ranging from strawberry and mint, blueberry and basil, lemon lime bitters and lemonade. As if their menu on offer couldn't get any better, this weeks markets saw the introduction of Casa De Loco's new Loco Pops. Freshly made, all natural icicle pops. The flavours are Lemon iced tea, watermelon, blueberry horchata, strawberry and mint and coconut banana cream pie. I only had a chance to try the strawberry and mint and I can say I'll be back to try every other flavor.
Moving on from the food to my other love, fashion. The Hunt & Gather markets have some of the best fashion and accessory stalls on offer. A standout for me this past weekend was the Hunter Tafe fashion students who had their collection kimonos on sale. Da Vintage Code, as they do every market brought their A-game with their wonderful array of vintage clothing and antiques. This stall is a must visit if you're after gorgeous one of a kind pieces.
Cheating on fashion with furniture, The Parcel Room brings beautiful vintage pieces back to life. If you're ever looking for a perfect piece to complete a room head over to The Parcel Room at the markets and you'll be sure to find something.
Art and home wares wonder, Annie Everingham brings her amazing home wares and prints down to the markets every month. Her designs are some of the most eye-catching prints I have ever seen and no visit to Hunt & Gather is complete without a visit to this stall.
So there you have it, just some of the standouts from the Hunt & Gather Markets. Remember, the third weekend of every month! Get down to Pacific Park for a Saturday morning filled with good food, music and everything in between!
The Hunt & Gather Markets: www.huntandgathermarkets.com.au