Sundae Fundaze: Back At The Clarendon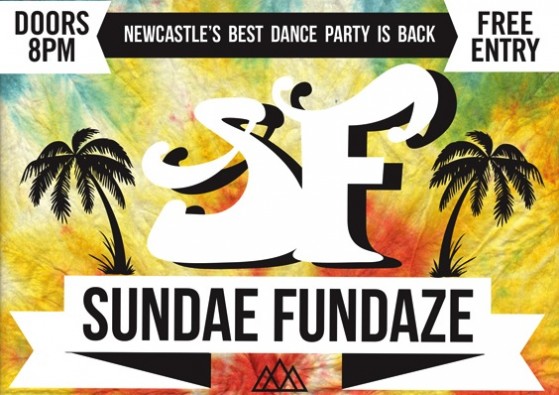 The summertime vibe is definitely in the air. With exams almost over it's time to celebrate with the return of Sundae Fundaze!
For 9 years, these two words have equalled the ultimate in both the Sunday session and outdoor party genre for many young locals. With only 3 or 4 parties a year, each playing host to some of the finest international and Australian djs, these events are highly anticipated and certainly live up to the "fundaze" name.
Why do the kids keep coming back? Because there is no where else in Newcastle that you can enjoy a boogie in the sunshine with your drink in hand! It's kick-ass music with an outdoors party vibe - and that makes all the difference. Starting with an early afternoon kick off, Fundaze keeps cranking into the evening - the obvious party of choice for those that just don't want the weekend to end.
We are super excited to announce that headline acts BOT (Italy) + YAHTZEL (Aus) will be joining us to get the d-floor crankin' on Sunday 24th November for another unmissable Fundaze event.
Supported by Fundaze resident Dan Cares (Syd) and local faves Anna Suraev, Jake Mexon & The Real Deal.
Congratulations to Club Rats who won our opening set competition.
*** TICKETS ARE AVAILABLE ONLINE NOW ***
https://sundaefundaze2013.eventbrite.com.au/ - $12 (includes fees)
Tickets will also be available from Ramjet & The Clarendon Hotel soon.
BOT: https://soundcloud.com/bot106
Bot is of the future. Half man, half-machine; fully Italian. Exiled in West London, locked in the studio since departing legendary duo Crookers, Bot (his creators named him Andrea Fratangelo) has disassembled any expectations and rebuilt his sound for 2018.
Since forging his new solo path, Bot has prepared half a dozen releases to deliver throughout 2013. The first, "Vamos / Go Down" EP was hastily snatched by Steve Aoki's Dim Mak label and released in March. His 2nd release, 'Indastria 2028' followed in May on his own label Main Course (with partners Astronomar & Neoteric). Next up are 2 smashers for Blood Music (Trails/One Hour) which will see the light in July and have since debuted in Fake Blood's Fabric Live 69 compilation. To round out the year, Bot joins the crew at Southern Fried once again, to drop the "Friday Pulse" EP and remixes, featuring the legendary Robert Owens. On top of that, more music from Bot and friends is being prepared for Main Course, and he's stayed busy remixing the likes of Diplo & Wiley. One thing is for certain; there are no plans to slow down!
Futuristic techno and unorthodox club rhythms are welded with hip hop influences, and a nod to the sounds and sprit of classic house. What we have here folks, is the new tomorrow.
YAHTZEL: https://soundcloud.com/yahtzel
20 year old production whiz Max Armata is the man behind the ambient beats and unique sounds that are taking the world by storm. Based in the costal town of Ulladulla, around 3 hours south of Sydney, Max has been making music since the ripe age of 14.
His love for electronic production came when he replaced an old 8-track tape recorder for a computer to record live instruments and drums. Further experimentation with synths and classic drum sounds 606 and 808's saw him finish his first tack. And from then on Yahtzel was born with one dedication in life, to make beautiful music.
At his young age, he has already released his 1st EP that was featured on Flumes BBC6 Radio mix, which was also supported by the best names in Australian dance music whilst also being named one of Inthemix's 'Local producers you need to hear'. Yahtzel's prominent mark on the Australian music scene in such short time has seen him receive support from the likes of Van She, Nina Las Vegas, What So Not, Big Chocolate & L D R U.
The release of his 'Girls' EP in January was picked up by "Majestic Casual" YouTube Channel and has since had over 130k plays. He is currently working on his first ever live show which will be followed by a tour and the release of his 2nd EP.
Facebook event: https://www.facebook.com/events/174898839371660/