Groovin' the Moo Announces 2014 Tour Dates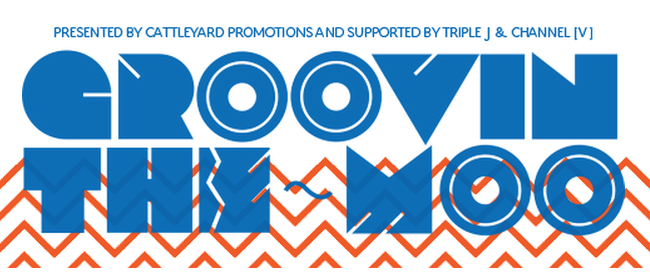 Regional Australia it's time to put on your dancing shoes and head to the mosh! The highly-anticipated 2014 Groovin' the Moo Tour dates have been released, with the exciting inclusion of a new leg to the national tour of Oakbank, South Australia.
Oakbank, South Australia will make a fantastic addition to the Groovin' the Moo story, with all communities (past and present) becoming integral and appreciated parts of the tour.
"It's taken a few years, but we are all very excited to welcome South Australia into the GTM Family. Oakbank Racecourse is a beautiful venue and the 2014 line-up is shaping up nicely already so we can't wait to launch the GTM Tour in SA", said Stephen Halpin from Cattleyard Promotions.
Organisers are delighted to announce that the 2014 Groovin' the Moo tour will be kicking off at Oakbank Racecourse, SA on Friday 25 April (ANZAC Public Holiday), followed by Maitland Showground NSW on Saturday 26 April and University of Canberra ACT on Sunday 27 April. Then it's off to Bendigo's Prince Of Wales Showground VIC on Saturday 3 May, Townsville's Murray Sports Complex QLD on Sunday 4 May and last but certainly not least, Bunbury's Hay Park WA on Saturday 10 May.
There are plenty of important Groovin' the Moo dates to mark in your diary, with tickets going on sale Tuesday 4 February 2014 for the value-packed price of around $100 with the Artist line-up coming to life on Wednesday 29 January 2014. Sign up to the Moosflash at GTM.NET.AU or make sure you're following @groovinthemoo for the latest news, info and competitions.
Groovin' the Moo is inviting everyone to share their favourite memory of the moo AKA #motmoo. Were you at the first show in Gloucester way back in '05? Was GTM your first ever festival? Did you meet your favourite artist in the signing tent? Or perhaps you found true love in the GTM mosh pit? Get your happy snaps together as GTM is giving away TEN double passes to the most creative #motmoo entries. All you need is instagram, a wicked memory from at least one GTM and a few hashtags. Visit GTM.NET.AU for all the details.
Save the Date! Here is the official 2014 GTM Tour Diary:
Fri 25 April – Oakbank SA
Oakbank Racecourse
Oakwood Road, Oakbank SA
Sat 26 April – Maitland NSW
Maitland Showground
Blomfield St, Maitland NSW
Sun 27 April – Canberra ACT
University of Canberra
Kirinari St, Bruce ACT
Sat 3 May – Bendigo VIC
Bendigo's Prince Of Wales Showground
42 – 72 Holmes Rd, Bendigo VIC
Sun 4 May – Townsville QLD
Murray Sports Complex – Townsville Cricket Grounds
Mervyn Crossman Dr & Murray Lyons Cres, Idalia QLD
Sat 10 May – Bunbury WA
Hay Park
(off) Parade Rd Bunbury WA
For more information please visit: GTM.NET.AU