Karnivool & Dead Letter Circus Due To Hit Newcastle In 2014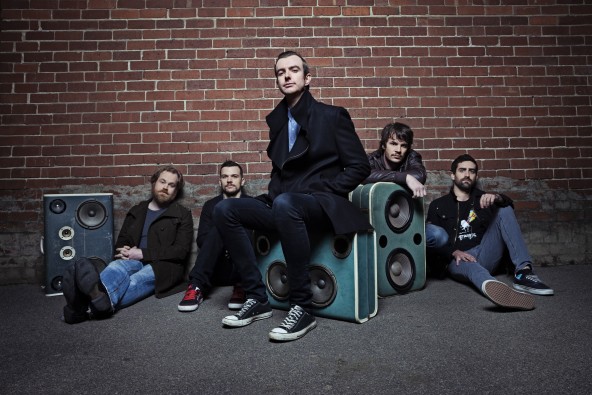 Some pairings just make sense: Summer and Beer. Chocolate and Banana. Hall and Oates. Rock and Roll, you just don't need to even think about whether it's right or not.
Karnivool are BEYOND pleased to announce the "Polymorphism" tour 2014, teaming up with their old friends AND sparring partners Dead Letter Circus to tread the boards, visit some old hunting grounds and move some air in the best way possible, soaring guitars and a giant bottom end.
It speaks volumes of each bands journey that as this press release is written Karnivool are playing a sold out show in Munich while Dead Letter Circus are playing a sold out show in San Francisco. Both bands released albums worldwide this year which debuted high on the ARIA charts (1 And 2 respectively). Both have been touring the world a lot of this year without enough time spent at home with friends and family. This tour is all about friends and family, as well as fans as the question most asked of both bands is "when are you dudes going to tour together again?"
Since debuting at #1 on the ARIA chart in July with their 3rd album Asymmetry, Karnivool have been hard at it. Now a major international draw, they've already appeared at a string of major European festivals this year including Sonisphere France (80, 000 people), Download UK (130, 000 people) and Hurricane Germany (60, 000 people). Karnivool are currently amidst their second European tour, this time headlining 25 shows throughout October and November including sold out shows in London, Brussels, Munich and Paris. Their European tour concludes in November with a sold out London show and recording a coveted Radio One Rock session at the legendary Maida Vale Studios in the UK.
Asymmetry is Karnivool's first number one album on the ARIA charts and the first time an Australian singer has had two #1 albums in the same calendar year with two different groups (singer Ian Kenny also fronts Birds of Tokyo). Asymmetry joins previous albums Themata (2005) and Sound Awake (2009) being certified gold – this time it only took 10 days!
Karnivool's new single 'Eidolon' has started to infiltrate Australian airwaves and is set for release on the 1st November. It's the 2nd single from the much-lauded album Asymmetry.
With their sophomore album The Catalyst Fire landing Dead Letter Circus their second #2 ARIA Chart Position and incredible reviews worldwide, Dead Letter Circus are currently on The Catalyst Fire World Tour debuting their highly anticipated new material to fans across the globe.
After sold out shows in Australia, last month Dead Letter Circus grabbed their round the world tickets and headlined Krank'd Up Festival in South Africa, toured the UK and Europe on a co-headline run with Monuments, played Euroblast Festival in Germany, and are now in California on their North American tour with Periphery. Returning to home shores for a heavily requested tour with great friends Karnivool over summer, vocalist Kim Benzie said "This is a lineup that has been talked about for years that no-one thought would ever be possible. We can't wait!"
Ian Kenny from Karnivool adds, "Karnivool are teaming up with Dead Letter Circus this coming January. With both bands having new records in hand this shit is going to be fresher than Jay-Z's sneaker closet. Don't miss it!"
Australia's finest instrumental musclemen sleepmakeswaves who only recently came back from touring Europe themselves complete the line-up for the Polymorphism tour which kicks off on January 8th in Melbourne and takes in other capital cities and some major regional areas. Tickets are on sale next Monday 4th November, best be getting in quick to secure tickets to the behemoth that is the Polymorphism Tour!
On sale Monday November 4th, 2013, 9.00am (AEDT)
Tickets for all shows from www.karnivool.com.au/tour
THURSDAY 16 JANUARY 2014 – NEWCASTLE PANTHERS, NEWCASTLE, NSW (18+)