Newcastle Fundraiser: Off With His Dreads!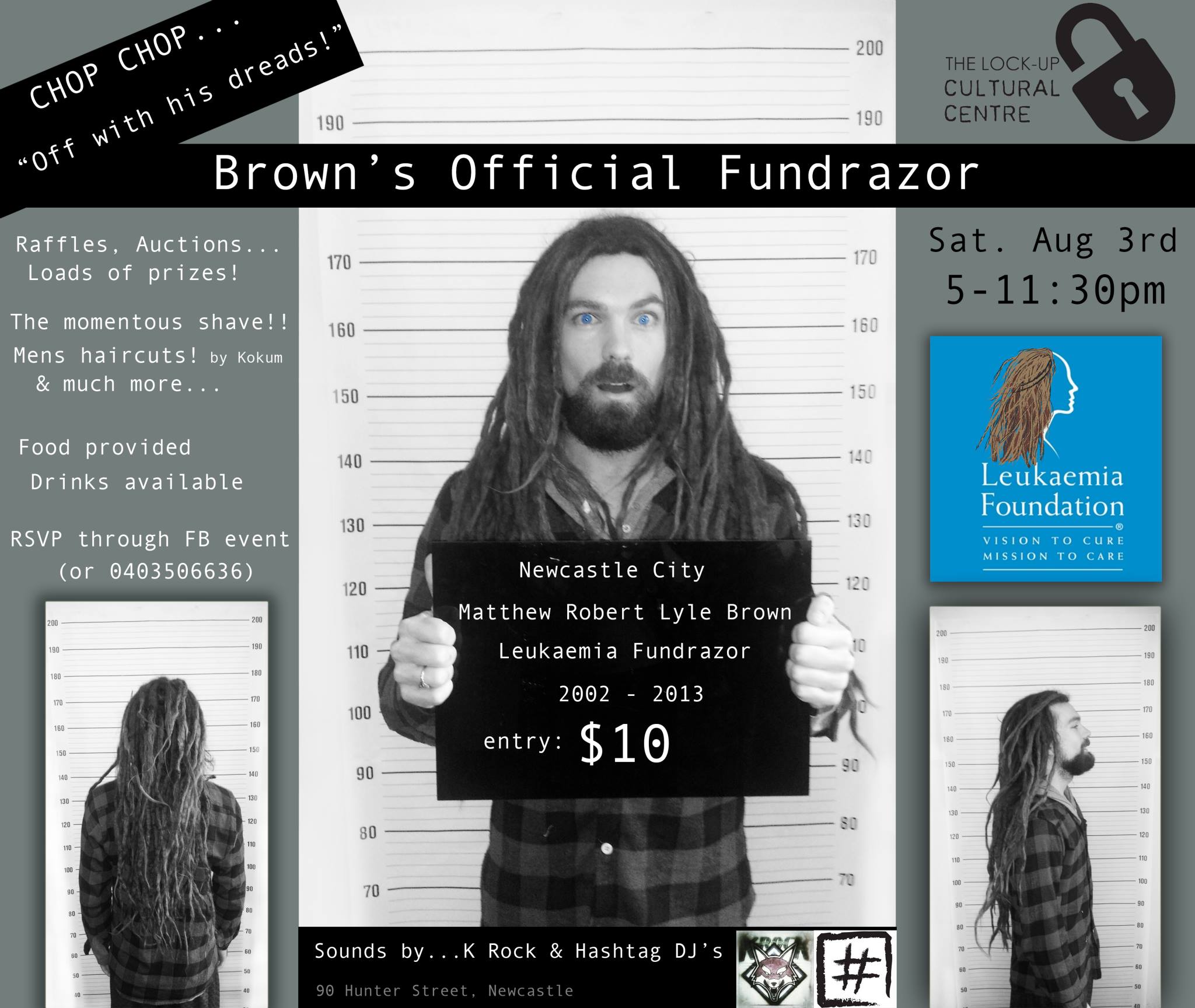 I don't know if it's just me or if this extends to the general populace, but I get a fierce pleasure from seeing someone's newly bald head after years of steady hair growth. Their head always looks too big for their body. It's pink and kind of speckled, like a newly plucked chicken. They can't stop shaking their head at the unfamiliar feeling of the wind tickling their cranium. All in all, it is an amusing spectacle.
However, mass entertainment isn't the sole reason that Matthew Brown is ending his decade-long affair with his dreadlocks. The man has been working hand-in-hand with the Hunter Leukaemia Foundation. His aim is to raise $10 000 for patient transport, treatment, and home stays for families in the Hunter region. What a guy!
He's sealing the deal by holding a public eventat the Lock-Up Cultural Centre, Newcastle's heritage police station. Pre-sale tickets are firstly distributed to those who have paid $50 to chop off a dread – a pocketsize, hairy souvenir from the evening. Second preference goes to all donators, big and small, and if there are tickets remaining it is on for young and old! Matthew has had so many donations and sponsors that the event is already almost at capacity.
For those joining the Fundrazor (Matthew's impressive pun, not mine), for a $10 entry fee attendees can feast on culinary delights, be eligible for a colossal number of prizes (to the value of $3000), or use their purchased tokens to have a tipple or two. Kokum Hair are also offering to style the locks of ladies and gents for an extra donation. For the men and the more hirsute ladies, beard trims are also available for a cheeky donation; while local DJs K Rock and Hashtag DJ's will provide the soundtrack to the evening.
At time of writing Matthew had hit 84% of his target, having raised $8408 from 131 sponsors. If you're keen to donate or get involved with the event, check out the event on Facebook; ''CHOP CHOP…"Off with his dreads!" Brown's Official Fundrazor'.
So consider lending a helping hand to the man who is dreading losing his dreads. We can help a worthwhile cause whilst still preserving our own glossy, luxurious locks. Plus we get to witness Matthew behaving somewhat akin to a slightly baffled plucked poultry. I'd pay to see that.
Date?: Saturday 3rd August
Time?: at 6pm 90 Hunter St,
Where?: The Lockup Cultural Centre, 90 Hunter St, Newcastle