Newcastle's Emma Mulholland is beachy keen for Australian Fashion Week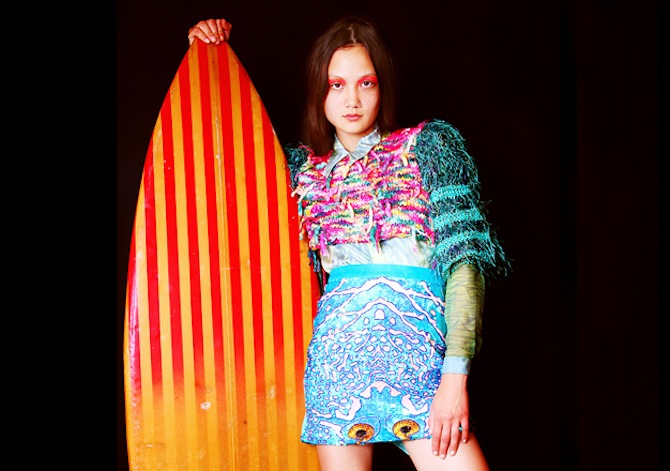 Inspired by Aussie surf culture, former Novocastrian fashion student Emma Mulholland, is set to make waves when she debuts her latest collection at this year's Rosemount Australian Fashion Week, which runs from 2 - 6 May.
Favouring clam-shells over crinoline, it's hard to believe this young up-and-coming designer only recently graduated from prestigious Ultimo TAFE.
Only one of three students picked to exhibit their collections, Mulholland is already well known for her colorful and eclectic pieces, a mixed bag of digital prints and erratic sea embellishments.
No doubt her new collection will follow her previous examples, drawing inspiration from seaside holidays, classic surf films and iconic Australian brands such as Billabong and Hot Tuna.
Her graduate collection, recently modeled by Rachel Rutt and photographed by Byron Spencer, features a colorful display of skirts, pants, dresses and blouses in bold and fluorescent colors.
Mulholland is the next fresh thing to come from Australian shores…
The Asia Pacific's stop on the international fashion week circuit, Rosemount Australian Fashion Week (RAFW) provides a platform for designers to showcase their collections to the world's most influential buyers and media. Held over 5 days, the schedule includes on-site collection shows held within state-of-the-art collection showrooms, off-site collection shows, The Gallery and The Presentation Suites at The Westin Sydney.
While RAFW is an industry-only event, for those who just have to lay eyes on the latest collections, they offer a VIP Hospitality Experience for groups.
Image courtesy of Door121 via Pedestrian TV. Model: Rachel (CHIC), Photographer: Byron Spencer.