Our Neil Young & Crazy Horse Review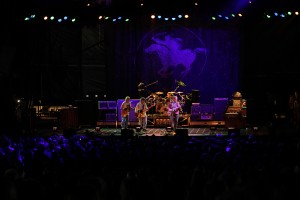 Neil Young and Crazy Horse's return to Australia was one that was drenched with great hype and expectation. The rumours became real – we finally had another opportunity to see an ageing group of legends perform in our own back yard.
The sun was shining, the wine was freely flowing and all seemed good as I arrived at Bimbadgen Estate. I was quite early but the eager crowd had already started packing into the green; throwing their picnic rugs out and cracking open all manner of snacks. As the crowd grew and grew, Melbourne four piece Husky took to the stage with a refined and purposeful stroll. Their set full of beautifully crafted, folk dipped tunes resonated well with the crowd who recognised the true talent and utter musicianship of the members. Highlights included the toe tapping "Tidal Wave" and falsetto filled "Dark Sea."
Next up were Australian legends The Drones – a seemingly surprising addition to a winery line up. None the less, I was immensely excited to see them perform right on the back of the release of their new studio album I Sea Seaweed. The raw energy that they showcased on stage was amazing yet I'm not too sure some of the older crowd members got it. Lead singer Gareth Liddiard's face contorted as he ruled the winery; blazing guitar solos and a great sense of showmanship intact. The haunting "How To See Through Fog" was a total highlight for me in what was a nearly faultless performance. I think Gareth Liddiard summed up the performance well "We're not usually a winery band… you bunch of fucking winos."
Soon enough it was time – Neil Young and Crazy Horse appeared onstage. Opening with a blaring rendition of "Love and Only Love" the fine, old rockers got into the swing of things. It was a little disappointing to see the band performing from auto cues placed on stands towards the front of the stage but I guess it's the way things go sometimes. What followed next was something that a lot of the older crowd were not expecting; a set which drew heavily on the band's latest release Psychedelic Pill. I think somehow the connection was lost. Younger members of the crowd such as myself were greatly appreciative of the new tunes which showcased Young's dynamic and present ability to write music and perform at a high level. On the other hand, the older members of the crowd seemed to get lost in the extended instrumental jams, loud psychedelic buzz and new nature of what was presented. It wasn't that Young performed badly, he performed great, it's just that the crowd who had come to relive their glory days were unable to do so. Old gems such as "Heart of Gold" and "Hey Hey, My My" were greatly appreciated but not enough for some crowd members who left the venue early. I'm also not sure doing an extended version of "Fuckin' Up" was a great idea for a reserved and aged crowd, although it was one of my personal highlights of the set.
All in all the performance Neil Young and Crazy Horse gave was one that was musically amazing and full of great rock and roll tunes – I'm just not sure the material was a great fit for the crowd. Regardless, it was totally what I expected and the only reason older members of the crowd would have been disappointed was if they believed they were coming to see Young perform an acoustic set full of aged classics.