What's On In Newcastle? Halloween, Ball Park Music, The Trocks & more!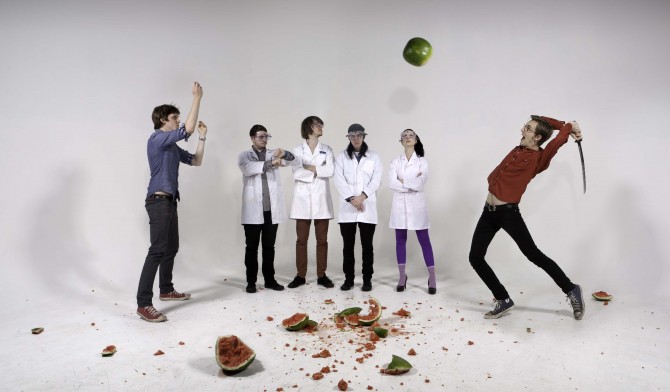 Ball Park Music (image courtesy of The Brag)
This week is going to be a big one, starting off with the return of Ball Park Music who are just bouncing of one success after another with the upcoming release of their second album Halloween celebrations are well underway for party-goers. Let's not forget the fabulous live music scene here in Newcastle, showcasing exceptional talent of all genres and tastes. To finish off, the all male, all talented, all hilarious Trocks are in town - not to be missed!
Friday 26th October
Ball Park Music w/ Loon Lake @ Bar on the Hill
Ball Park Music are back in Newcastle as part of the Museum Tour, for what will no doubt be the band's biggest and most ambitious tour yet. With their second album due for release on October 5, their second in just 12 months, there appears to be no limits for this Brisbane five-piece.
When: 7:30pm to 11:55pm
Tickets: U Members $29.50 / Students and Guests $32
Available now from U Contact on Callaghan campus, Bar on the Hill, Big Tix and the Rock Shop.
Whiplash IV @ Cambridge Hotel
Headlining this year's event, Denmark's very own mind bending, sonic altering, genre bending and soul destroying export, MNEMIC. Supported by UNEARTHLY, DAWN HEIST, HAMMERSONIC, THE FLAMING ARTS, and others.
Tickets: GA $49.10 / VIP $64.50
Available from Big Tix
Diafrix / All Day @ The Great Northern Hotel
The multi-genred and multi-talented Diafrix will be in Newcastle this weekend. Having previously supported Bruno Mars, Tinie Tempah, George Clinton, B.O.B, Lupe Fiasco AND having recently performed at Glastonbury, this is not one to miss.
Tickets: $15+BF, or $18 on the door
Charlie Musselwhite (USA) @ Lizottes
Harmonica master Charlie Musselwhite's life reads like a classic blues song: born in Mississippi, raised in Memphis and schooled on the South Side of Chicago. A groundbreaking recording artist since the 1960s, Musselwhite continues to create trailblazing music while remaining firmly rooted in the blues. His worldly-wise vocals, rich, melodic harmonica playing and deep country blues guitar work flawlessly accompany his often autobiographical and always memorable original songs.
Tickets: $58, available from the Lizotte's website
Saturday 27th October
The Rubens @ Cambridge Hotel - POSTPONED
If you were planning to head down to the Cambridge to catch The Rubens this Saturday night, the event has been postponed due to illness. Stay tuned for a rescheduled date to be announced very soon!!
The Griswolds & Guests / Pop Up Party @ The Great Northern Hotel
Silly name and serious fun, The Griswolds sound can be likened to the very popular 'tropical indie-pop' but with melodic smarts and dynamic energy, they set themselves apart.
Tickets: $8+BF, or $12 on the door
Jazz In The Vines @ Tyrrell's Vineyard, Hunter Valley 
The best annual music festival in the Hunter Valley. Held on the last Saturday in October each year Jazz in the Vines is one huge party. Local wineries and restaurants get together in a big paddock amongst the vineyards to let their hair down and party with some of the grooviest and funkiest music around.
get some friends together grab a bus and get along.
Tickets start at $79, available from the Jazz In The Vines website
Carmen Smith & Diana Rouvas @ Lizottes
For the first time, Off 'THE VOICE' series, 2 of Sydney's finest singers and artists come together for one night at Lizotte's showcasing their extraordinary voices and songs with an acoustic, raw flavor. The soulful smoothness and tone of Diana and the raw soul and energy of Carmen, the 2 embark on separate acoustic sets before joining to do a few tunes together at the end. Not to be missed!
Tickets: $35, available from the Lizotte's website 
Ultra Swing Lounge @ Civic Theatre
Combine a glamourous set, dramatic lighting, the sound of a big swing band, and handsome young crooners attired in dinner suits and you have the recipe for a fabulous night of music.
By popular demand Ultra Swing Lounge returns starring Daniel Stoddart, Steve Hudson and Rob McDougall singing those memorable show stoppers. Add to the mix sequins and flowing gowns worn by the professional ballroom dancers of 'Dancing with the Stars' fame – Aric Yegudkin, Masha Belash and others and you'll be dancing out of the theatre by the end of the show. This professional show can stand tall with the best on Broadway – it's one not to be missed. Organise a group of friends and BOOK NOW.
Performances
Thur 25 Oct 8pm
Fri 26 Oct 8pm
Sat 27 Oct 2pm & 8pm
Tickets: $59, available from the Civic Theatre website
Sunday 28th October
Owen Campbell @ Lizottes 
Owen Campbell has been playing guitar since he was 9 years old and is one of Australia's most talented slide guitar players and song-writers. With his gravelly blend of blues, roots, soul and country, and a voice that belies his 28 years, along with his unflinching ability to sing it sweet and play it dirty, he creates a perfect blend of melody that's simple, but right, as is the way with blues.
Tickets: $19, available from the Lizotte's website
Roller Derby Double Header @ Newcastle Entertainment Centre
On the 27th of October 2012, Newcastle's finest skaters will take to the Newcastle Entertainment Centre for a double header of hard hits and fast feet in a game of roller derby. The Newcastle representative squad The Dockyard Dames will take on Auckland Roller Derby League in a nail-biting bout. Before the Dames hit the track however, the Newcastle Roller Derby Star Riots will take on Central Coast Roller Girls making this event a double header not to be missed. You're sure to end up on the edge of your seat or up on your feet by the end of this night!
Tickets available through Ticketek
Raid My Wardrobe @ Newcastle Basketball Stadium
45 stalls full of hundreds of high quality second hand women's clothing, shoes, handbags and accessories for bargain prices. Various styles and tastes available - there's something for everyone.
Featuring fashion labels such as Guanabana, Lisa Ho, Sass & Bide, Morrissey, Saba, Alannah Hill, Witchery, Metalicus, Charlie Brown, Saba, Cooper Street, Kookai, Ladakh, Oroton, Mimco, Olga Berg, Vintage and Maternity.
Free parking, 2 min walk from Broadmeadow train station, Bus routes 222, 226, 230, 231, 317, 322, 363. $3 entry fee, Coffee and refreshments available.
Cash sales only. No ATMs.
Entry $3
10am - 1pm
Dark Horse Espresso & Totem Brand Present: Handmade 
Dark Horse Espresso & Totem Brand have come together this month to collaborate on a quick little art-show by the name of 'Handmade'.
Being held at the end of the month, 28th of October, with an awe inspiring display of local and national creatives on show this show is not one to be missed!
Where: 24 Greenway st, Wickham
From 7pm
Tuesday 30th October
Open Mic Night @ The Great Northern Hotel
Music kicks off at 7pm. With free entry, $8 jugs and $10 steaks, is there really anything better to be doing on a Tuesday night? If you find the courage to get up and perform, you'll be rewarded with a meal and drink on the house!
Wednesday 31st October
Joe Kalou @ Lizottes
With a sound often compared to the likes of Jack Johnson, Ben Harper and Bob Marley, Joe Kalou is definitely one to watch. A classically trained flautist and an inspired singer/songwriter, Kalou joined the cast of The Rock Show when he was just 16 years old and toured the country performing sold out shows with Jon English.
This Wednesday performing with The Rock Show band, Joe Kalou will be covering hits from Bob Marley to Lenny Kravitz to Stevie Wonder, as well as debuting new songs from his upcoming album.
Performers include: Joe Kalou, Andrew Sampford, Paul Toole, Isaac Hayward, Shaun Tarring; under the direction of Stuart Smith.
Tickets: $15, available from the Lizotte's website
Halloween @ Bar on the Hill
Music from Melbourne Producer and DJ, DCUP, supported by 2012 National Campus Band Comp finalists Mr Speaker and the People Party, and local dudes #Hashtag Djs.
Prizes will be awarded on the night for the best person AND team costumes. Winners will be awarded a $200 Westfield gift voucher. Special drink prices of $3.50 for beer and $4 spirits.
When: 7:30pm to 11:55pm
Tickets: FREE ENTRY for students (must have student card to get free entry) / Guests $10
Halloween Party @ Fanny's Nightclub, presented by UNIversal Student Night
Free entry for students and those in costume, $4 drinks.
Face painting, giveaways and prizes.
Thursday 1st November
Jazz Factory @ The Great Northern Hotel
Bring your instruments along and join in with the band on stage, there are prizes to be won! Whether you're a musician or a jazz lover, come along to Jazz Factory with Adam Ferrier, Paul Latham, Adam Morris, and Steve Woodster.
Jon Stevens @ Lizottes
Most recognised for his work as the lead singer of Australian band Noiseworks, who had 4 Australian Top 10 albums, Jon also fronted Australian rock band INXS after the death of its lead singer Michael Hutchence and was part of two Australian productions of Jesus Christ Superstar, playing Judas on both occasions, to high acclaim. Jon Stevens has led a varied and remarkable career, standing strong through the successes and trials that have earned him a place as a respected performer. Through his solid studio recordings and incredible live performances, Jon has proven himself to be an adaptable, hard-working and inspiring artist. He has walked the boards of the world's most prestigious stages and enjoyed the opportunity to work alongside the world's best. 2011 sees Jon release his solo album CHANGING TIMES and from it, the first single JUST A MAN, which sees Jon opening up with an honest reflection.
Tickets: $62, available from the Lizotte's website
Les Ballets Trockadero do Monte Carlo @ Civic Theatre
Sure to entertain even the most discerning dance enthusiasts and complete novices alike, this company of professional male dancers present a unique blend of classical training, an inspired comic approach, and the surprising fact that "men can, indeed, dance en pointe without falling flat on their faces!"
Tickets: Available through Ticketek now!