What's On In Newcastle? Karnivool, Dead Letter Circus, Mat McHugh & Sarah McLeod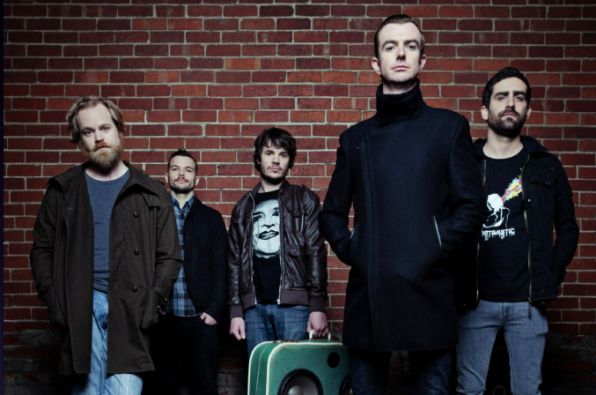 Thursday 16th
Mat McHugh @ Lizottes Newcastle
'It all started with me wanting to impress a girl…' Since the fateful evening on which Mat McHugh decided that playing an open mic night was the way to win the girl of his dreams to his current Summer Come Save Me Tour of 2014, the path has been adventurous, winding and often unexpected. The vehicle for Mat's initial musical musings was The Beautiful Girls whose rapid success with his songs and the recordings he made of them led to great reviews, tours, travel, international performances, meetings with heroes, dalliances with villains and an exploration of what was important as a human being, an artist and a man. Fast forward to 2013 where Mat returned to tour the USA and his beloved South America for live performances during which an exploration of all Mat's musical adventures came together: while playing live he found a variety of comfortable ways, from solo acoustic to hard hitting soundsystem-with-beats to deliver the songs from his successful one-man-show 2012 Love Come Save Me album, the songs he made famous with The Beautiful Girls and songs of other writers and performers which have inspired him. Mat also started performing new material which will form the basis of an album in 2014. So now it is back into the Summer culture which the music of Mat McHugh embodies and delights in as Mat and his musical companions take to the road for what will be very special performances on the Summer Come Save Me Tour Says Mat:
'To me, music is far too precious to exist in a box. I think a song is born and dies in a moment and, in that, becomes a new definition. Playing live, I never know what's going to happen, and that's exactly the way I like it. As long as there is love though, everything will be OK.'
Tickets: Lizottes
Karnivool & Dead Letter Circus @ Newcastle Panthers
Some pairings just make sense: Summer and Beer. Chocolate and Banana. Hall and Oates. Rock and Roll, you just don't need to even think about whether it's right or not.
Here at Karnivool HQ we are pleased to announce what is surely to be one of the tours of the summer, and will make the fans of both bands more than happy. A pair of artists that toured together years ago which was a shitload of fun, and makes even more sense today when both bands have journeyed a long way from their original "sharing a van" roots.
Karnivool are BEYOND pleased to announce the "Polymorphism" tour 2014, teaming up with their old friends AND sparring partners Dead Letter Circus to tread the boards, visit some old hunting grounds and move some air in the best way possible, soaring guitars and a giant bottom end.
It speaks volumes of each bands journey that as this press release is written Karnivool are playing a sold out show in Munich while Dead Letter Circus are playing a sold out show in San Francisco. Both bands released albums worldwide this year which debuted high on the ARIA charts (1 And 2 respectively). Both have been touring the world a lot of this year without enough time spent at home with friends and family. This tour is all about friends and family, as well as fans as the question most asked of both bands is "when are you dudes going to tour together again?"
Babylon Circus @ The Cambridge Hotel 
After four hugely popular studio albums and more than 1,500 gigs across the world, from Central Park to WOMADelaide, Babylon Circus are set to release their latest album, Never Stop and make a triumphant return to the Australian stage in a national tour.
Doors: 8:30 PM
Friday 17th
Billy Liar @ The Small Ballroom
Billy's reflections on modern life combined with his machine-gun strumming are urgent, immediate, life-affirming and delivered with more charm than your average 'acoustic punk poet. You're gonna get the honest truth from this Liar." Coming off the tail end of a mammoth US tour including an appearance at FEST, Billy Liar is headed our way for as many shows as he can muster throughout December and January. Singing from the heart and drawing from an innumerable cache of influences, Billy Liars performance can cut to the core of any audience.
Doors: 8PM
Tickets: Kingdom Sounds
Hot Cop @ The Cambridge Hotel
Supported by The Jimmy Bazil Project and Theaves.
Doors: 8PM
Tickets: Big Tix 
Saturday 18th
The Funkoars @ The Small Ballroom 
Back once again! Bursting to debut new material The Funkoars are embarking on a short, sweet & sweaty 11 show tour starting in Adelaide, ending in Queensland and getting as close to the beach as possible to test the theory on Hons whether he can or cannot achieve a healthy tan.
With the impending release of the mysteriously titled EP "D.O.T.H." - The Oars will be bringing the best of the old and new to the stage with help from Golden Era Records right hand man, DJ Adfu, as they continue to finish polishing off album #5 due early 2014.
Joining them on the tour personal favourites and sound wave smashers Mr Hill & Rahjconkas will be setting off the evenings festivities with dangerous drums, foul basslines & world class rhymes.
Anyone familiar with an Oars live show knows things can get a little moosty.
Doors: 8PM
Tickets: Kingdom Sounds
Tumbleweed @ The Cambridge Hotel
Australia's finest purveyors of fuzzed out spaceball rock TUMBLEWEED hit Newcastle town for the first time in years!
Doors: 8PM
Tickets: Big Tix
Cinema Under The Starts @ Kind Edward Park
Newcastle Permanent's Cinema Under the Stars is BACK! By popular demand we've brought Newcastle Permanent's Cinema Under the Stars back to Newcastle. Despicable Me 2 (PG) will screen at our Newcastle event this year to be held at King Edward Park.
Entry is FREE so gather your friends and family and relax with a picnic as the sun sets and the screen lights up. Entertainment starts at 5.30pm and the movie will screen at sundown (approximately 8pm - depending on where you are). There is free entertainment to enjoy before the movie and food can be purchased when you get there!
Visit www.newcastlepermanent.com.au/cinema for more information and movie previews.
Cinemas @ The Carriage Shed
The first film of the Other Film Society's (TOFS) outdoor cinema will roll this saturday night, Jan 18, in the Carriage Sheds at Foreshore Park from sunset.
The film, Stories We Tell by Academy Award nominee Sarah Polley, is a deeply moving portrait of a family dealing with a legacy of secrets and lies, and the elusive nature of truth itself. It was one of the most heralded films of the 2012 Venice and Toronto Film Festivals.
The area for the film screening will be partitioned off within The Carriage Shed and chairs for the film are provided. Pre-purchased memberships are advised to guarantee a seat, as places are limited. Film lovers can grab a spot on the grass for a picnic to farewell the day and welcome the stars before the film begins to roll.
TOFS ran their inaugural outdoor season last summer at Nobby's lighthouse and have been showing weekly films in The Commons in Beaumont street during the winter months. This is the first of three films in the 2014 summer season.
To see the films guests can purchase single or multiple memberships through Sticky Tickets.
The Other Film Society, a local not-for-profit film society showcases foreign, independent and unusual films in Newcastle. More information can be found on TOFS Facebook page.
Sunday 19th
Sarah McLeod @ Lizottes Newcastle
"I grew up on my parent's old vinyl records. I was obsessed with The Beatles early work. When I found out that they were the backing band for Tony Sheridan's 'My Bonnie' I played this track to death, and would sing it to anyone that would listen… especially my Aunty Bonnie. Then I moved on to the Please Please Me record and it remains to this day one of my favourites. My mums best friend's name was "Anna", so needless to say she copped a lot of me singing the song 'Anna' to her day in day out. And my crowd pleaser was "I Saw Her Standing There" - I would rip into this when any of my sister's friends came over, always a pleasure to sing to a new crowd as my family were totally over it. This is how I broke my arm when I was young as Leah chased me out of her party because I wouldn't stop singing the same 3 songs…I tripped in a panic and there you go… Beatles aside, I was completely taken with the sound of these early recordings, tracks like 'Runaround Sue, 'Summertime Blues' and 'Johnny Be Goode' were so fun to sing, they just felt so natural. Then I discovered The Platters, The Ronettes, Sam Cooke, Otis Redding and then fast forward to the entire Dirty Dancing and Back To The Future soundtracks. This style of music has always been my foundation, in the 90's I pushed it very firmly aside to focus on my 'grunge' phase, I never confessed to anyone that my tastes were living in the past, but now I feel I have come full circle and it's ok for me to just write what comes naturally. " As a songwriter I feel that I have left no stone unturned, I find excitement in all kinds of styles, acoustic, rock and EDM, they all have their place and they are all fun to write and perform. This classic style of writing however, comes the most naturally to me, not only to write, but also to listen to. Simplicity, absolute simplicity. I tend to write myself in circles at times but it always comes back to the simplest and most obvious idea that I didn't see at first. I'm very happy that I made this journey and have arrived safely back where i started but with more knowledge and confidence to execute i… just like in the alchemist" I'm calling it 96% Love Song Book Part 1 because it is made up of mostly simple love songs. Due to the fact that The Superjesus material was always so hard to chart or learn I decided to make this record a song book with the booklet being all the words and simple chord changes so everyone can play along. This record is for all of us to enjoy, not just to play on your stereo. Whether this direction is relevant or not, is not something I am concerning myself with. I love it and it makes me happy. I have enjoyed this writing/ recording process more than any musical experience to date."
Tickets: Lizottes
Tuesday 21st
Six Summer Flix @ The Tower Cinemas Newcastle 
"A Lady in Paris"
For more info: Newcastle Art Gallery Society
Wednesday 22nd
The London Klesmer Quartet @ Lizottes Newcastle
The London Klezmer Quartet (UK) have just completed a very successful tour of NSW, VIC, WA and ACT. The band performed to packed audiences in live music venues and at five festivals, including headlining at Port Fairy and the National Folk Festival. In their two Australian tours (2012 & 2013) they have sold out venues as diverse as Melba Hall, Camelot Lounge, Melbourne Recital Centre (salon), Sydney Jewish Museum, Kulcha (Fremantle) and the Famous Spiegeltent. LKQ's performance at the Melbourne Recital Centre in March 2013 was recorded by The Live Set (ABC/ RN), and the band also appeared for a second year running on ABC shows The Music Show and The Rhythm Divine. The Australian published a full-page article about LKQ, and Ilana Cravitz, the band's fiddler and leader, was a guest on Classic FM's Midday with Margaret Throsby. Audience response to the band's combination of technical prowess, varied and well-arranged material, and informative yet humorous stage patter has been positive across the board.
Tickets: Lizottes
I Declare War @ The Small Ballroom
By The Throat Productions and Mannequin Republic are proud to announce Summer Break 2014! Born out of the thriving music scene in Perth, Summer Break makes its first appearance around Australia taking in all major cities. The tour will also feature massive 18+ AND all age's shows nationwide!
Headlining the tour will be US death metal giants, I Declare War. The boys bring their extreme brand of metal to our shores for the first time and will be touring with amazing local talent. 
 Graves from Wollongong have toured nationally and gained a massive following from Australian audiences. These guys are sure to bring the heavies throughout the tour.
Joining them is one of Perth's finest, Iconoclast.
Storming out of Perth, Western Australia in Mid-2012 wielding their unique brand of heavy, technically proficient metal and a dynamic, blisteringly heavy stage show, Iconoclast has turned heads Australia-wide and internationally.
The Perth lads have supported some great bands such as Born of Osiris, Upon a Burning Body, Volumes and many more!
Getting to tour nationally with I Declare War and Graves will be a massive opportunity for one of Perth's best bands.
Doors: 8PM
Tickets: Kingdom Sounds