What's On In Newcastle? Kate Miller Heike, Something With Numbers and Knight's Holiday Clinic!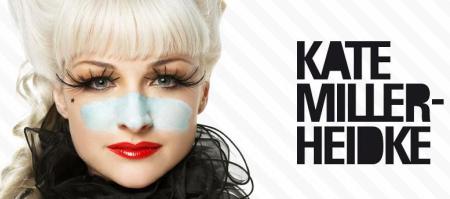 A week to farewell June and welcome July, and what a busy one it will be! With major act's like Kate Miller Heike paying Newcastle a visit, Knight's holiday clinic's to get the heart pumping and a whole array of great gig's, cheap eat's and even some club parties! Make the most of it, a week in Newcastle you don't want to miss!
Friday 28th June
Kate Miller Heike @ Newcastle City Hall
Described as a 'triumphant statement' (Daily Telegraph) and a 'masterpiece' (The Brag), Kate's 3rd studio album 'Nightflight' was released last year to critical acclaim, debuting at #2 on the ARIA album charts. Previously Kate's first album 'Little Eve' achieved gold status and received four ARIA nominations, her second album 'Curiouser' going on to reach double platinum sales in Australia, spawning two platinum hits 'Last Day On Earth' and 'Caught In The Crowd'. Post her whirlwind international tour Kate is coming to our very own Newcastle for the first time since the release of 'Nightlfight'! Playing in the intimate Newcastle City Hall Kate will be performing as a duo with her long-time collaborator Keir Nuttall on guitar. Kate says, "Of course I love playing in the capital cities, but there is something very special about the audiences in regional areas. It has been more than three years since my last big regional tour, so this one is long overdue. These fans are hugely important to me, and I can't wait to see them!" Supporting all shows on the tour will be Franky Walnut, a well-scrubbed country boy who has been enthralling audiences both locally and at on the road.
Time: 8pm
Cost: $53.75 plus booking fee from Ticketek
Something with Numbers @ The Cambridge Hotel
Three years on from their last album 'Engineering The Soul', Central Coast rockers Something With Numbers stage a return with long-awaited album 'Eleven Eleven', and a national tour to support the hotly anticipated release! It's been quite a while since Something With Numbers stormed the airwaves behind power pop single Stay With Me Bright Eyes, taken from the 2008 album Engineering the Soul. Now the Central Coast band are back with Eleven Eleven being promoted as Something With Numbers' most introspective record.
Time: 8pm
Cost: $28.40 from BigTix
Cassian & Swick @ King Street Hotel 
True to form King Street has another big UON night for you! Cassian and Swick picking up the beat with their Sydney and Melbourne heritage that is sure to create on hell of a night! $4 drinks till 1am and half price entry for students.
Time: Doors open 9pm
Cost: $10 entry or $5 for students
Sleepmakeswaves @ The Cambridge Hotel
Sydney ambient/melodic post-rockers SLEEPMAKESWAVES have announced a massive national tour for June & July. Taking in 6 states (and 1 territory) the '…and so we played everything' tour will take the band's epic and climactic live show around the country, in their only headline tour for 2013. And Newcastle they're coming for you!
Time: 8:30pm
Cost: $17.90 from BigTix
Danse d'hiver @ The Royal Exchange
Come and join Zia once again for another intimate evening of fusion, tribal and gypsy bellydance, starring some of Australia's finest up and coming bellydance performers & percussionists in a tribute to the winter season. Performing on the evening will be: Lilly Sim (Adelaide), Lakita (Byron/Melbourne), April and Cristie of Ghawazi Caravan (Blue Mountains), Kael (Sydney), Zoe (Berry of Bahirah), Jasmine (Illawarra Tribal Collective) Dance of Life dancers and Drummers Shana Dennis, Earthen Rhythms African Drumming and of course, your hosts, Zia! For more info visit their Facebook event
Time: Doors open 7:30pm
Cost: $25 plus booking fee from Event Brite or $30 at the door
Saturday 29th June
The Last Waltz Revival @ Lizotte's
The Last Waltz was a Farewell Concert for 'The Band' that became the most legendary night in rock history with an unparalleled lineup of rock superstars including Bob Dylan, Eric Clapton, Neil Young, Joni Mitchell, Van Morrison, Dr John, Muddy Waters and many more who shared the stage in celebration of the music. Martin Scorcese chronicled this most iconic night in rock history and has been hailed as one of the greatest concert films ever made. They've assembled an 11 piece band complete with Brass section, performing all songs from the original concert "The Last Waltz". Note: The audience response to previous sold out shows has been extraordinary, so please book early.
Cost: Dinner and show $101, or Show only with optional dinner menu $43. Bookings through Lizotte's
Pantseat @ The Civic Playhouse
Pantseat Productions is proud to presents some of Newcastle's most talented young performers in our showcase evening, "Pantseat Performs". Students from Pantseat classes will be performing musical theatre numbers and dramatic excertps showcasing the skills they have developed in Semester 1, 2013. Students in our solo music theatre and solo singing lessons will also be performing on the night. Come along and see the starts of tomorrow in this celebration of knock out talent!
Time: 7pm
Cost: $16 from Ticketek
Ember @ King Street Hotel
On tour for the InTheMix Awards 2013, one of our absolute favourites EMBER will be swinging by. No doubt EMBER will be right up there at the top with Australia's best DJs.
Time: Door's open 9pm
Cost: $10 entry
NIB Hunter Festival of Sport @ Sporting locations throughout the Hunter
The annual nib Hunter Festival of Sport provides both children and adults of all ages with an opportunity to participate in a choice of over 40 different sports through come and try days, coaching clinics and tournaments. Activities will take place in a variety of sporting venues and fields throughout the Hunter Region. Sporting teams will attend from various cities and towns throughout Australia and compete for the title of nib champion. The event is aimed at both the beginner who may like to try a new sport they have always wanted to try through to the experienced athlete. The event commences June 29th and continues through until 16th July. For specific date and venue information please visit the NIB Hunter Festival of Sport website.
Coffee and Cars @ Park outside Cambridge Hotel
Unbeknownst to most of the young P-platers that spend their time doing laps of Wharf Road, Newcastle has had a car culture for much longer than their lifespan. Yet this car-culture is not just about posturing and cruising the beaches. Above all, it is about the ride. So the Cambridge Hotel is bringing is The Parthenon Café back to Hunter Street on the last Saturday of every month with its 'Coffee & Cars'. From 11am in the hotel's carpark the Australian Rally Club will have a selection of cars on display. Alongside will be a host of historic European, American and Australian classics, collectables and current vehicles. As the Coffee and Cars name suggests, the hotel will open its doors to dish up the coffee, milkshakes and donuts for the owners and the dreamers as they check out the paintwork and look under the bonnets of some of best cars in the region. And as a special treat, the hotel will also supply a team of special meter maids, who will pay for your parking as you arrive.This event will continue revving up the gears every last Saturday of the month!
Sunday 30th June
Morgan Evans @ Lizotte's
Back by popular demand! After selling out Lizotte's in January, CMC New Oz Artist of the Year Morgan Evans returns to rock the house again. Direct from the USA, where he wrote and recorded his soon to be release debut album, Morgan will continue his massive 2013 with this special headlining show. Backed by his electric five-piece band, the multi-award winner will showcase the hits from his EPs Live Each Day and While We're Young, and preview the hits-to-be from his upcoming album. After honing his chops on tour with Taylor Swift, Brooks and Dunn and Gary Allan, Morgan has become one of the hottest young singer/songwriters in Australia. Don't miss out on this chance to see the Newcastle native doing what he does best. Joining him for the show will be special guest Kaylens Rain, the brother-sister duo who's debut album Found has been getting rave reviews in recent months.
Cost: Show only with optional Al a Carte menu $25 booking's from Lizotte's 
Song Co & Co @ Conservatorium Theatre
The Song Company presents Song Co & Co - old songs, new songs, shared songs, featuring the premiere of a satirical cantata entitled "Howls of the House". Th event will be supported by University of Newcastle Chamber Choir!
Time: 2:30pm
Cost: Adult $49, Pensioner/Senior $39, Under 30 $35, Student $15, Family (2 adults and 2 children): $75 from City Recital
Knights v Titans @ Hunter Stadium
Gold Coast, in their sixth season, is here for a tough. A good battle needs a good crowd. So come along to the stadium and witness the home team slay the Titans.
Time: gates open 11:30, kickoff 2pm
Cost: vary according to seat selection. Visit Hunter Stadium website for more info or to book.
Katheryn Camm 'As a Pure Child' @ Watt Space
Kathryn Camm's collection of works pure as a child explores the ideas of innocence, the type that can only come from being young and naïve. This assembly of portraits investigates how camm recalls the world when she was young, by referencing iconic illustrations of beatrix potter characters, as well as, characters of her own. She finds the idea of being able to see the world through the eyes of a child, thought provoking and full of hope and imagination. Camm suggests as adults we get all too caught up in reality and lose our sense of wonder. It is this wonder that i am interesting in finding again.
Time: 10am-5pm
Going, Going Gone; The Last Wool Auction @ Watt Space
After many years, the last wool auctions in Newcastle took place on February the 26 2013. The Australian Wool Network generously invited Photomedia students enrolled in the University to document the event and this exhibition showcases the visual archive that resulted. Students have used photographs, video and animation to portray their individual responses to the people, environment and atmosphere of the final auction in Newcastle.
Time: 10am-6pm
Kate Burton's Ink and Paper @ Watt Space
For her second solo exhibition, Kate Burton explores the relationship between ink and paper through various processes of work making and her influences, biology and natural history illustration.
Time: 10am-5pm
Monday 1st July
2 for 1 @ The Duke of Wellington
Two chicken schnitzel's for only $15, get your cheap lunch or dinner feed this Monday at the Duke, and bonus it includes gravy or sauce!
$10 Schnitzel Night @ Honeysuckle Hotel
Feed the family with $10 schnitzels at Honeysuckle Hotel, included chips and salad between 6pm and 9pm.
$14 Steak @ The Junction Hotel
Cure your Mondayitis with a delicious $14 steak for dinner, top it off with a cold beer or glass of wine and your Monday night won't be that bad after all!
Tuesday 2nd July
Knight's Holiday Clinic's @ Hunter Stadium
The Newcastle Knights Danny Buderus Super Clinic will be held at Hunter Stadium on Tuesday, 2nd July 2013. Danny Buderus will be conducting an array of skills and fun games for young aspiring children under lights in a fun-filled evening. Watch Danny fly in on the Westpac Rescue Helicopter before joining him on the ground to learn some exciting new Rugby League skills.Included long sleeve Danny Buderus clinic shirt, football and knight's cap. Ages from 6-12 year and numbers strictly limited for 450. Secure your spot today!
Cost: Junior Members $45, Non Junior Members $55, Register through Knight's Super Clinic
Wednesday 3rd July
Live and Local @ Lizotte's
This week's talented line up includes: Mark Moldre, John & Jane, Bambino Koresh and Prahlad. Live and Local Meal Deal! $15 Includes choice of Main Meal (pasta of the day, beef back and burgundy pie with creamy mash or Lizotte's famous beer battered fish and chips) plus one Glass Coopers Pale on Tap.
Cost: $10 with Al a Carte or Bar menu available. Call Lizotte's Restaurant for Booking (02) 4956 2066
Engelbert Humperdinck @ The Civic Theatre
The ultra-smooth King of Romance is the consummate entertainer, with an instantly recognisable voice and natural charisma which have endeared him to global audiences of all ages, including Royalty, Presidents and Heads of State, for more than four decades. Engelbert has released over eighty plus albums of tender ballads earning Gold (sixty three) and Platinum (twenty four) status, and his career is recognised with four Grammy nominations, a Golden Globe for Entertainer of the Year and a Star on the Hollywood Walk of Fame.
Time: 7:30pm
Cost: Premium $149.90, A-Reserve $119.90, B-Reserve $89.90
La Dispute @ The Cambridge Hotel
La Dispute is five close friends from the Upper Midwest with a mutual passion for using music as a means to express, challenge, inform, and connect, but also as a fantastic excuse to have fun, make tons of new friends, and travel anywhere and everywhere that people will have them.
Time: 7pm
Cost: $36.60 plus booking fee
Jon English and the Foster Brother's @ West's
In a special event to celebrate the 30th anniversary of the release of 'Beating the Boards' – a live double album recorded with the Foster Brothers – Jon English is hitting the road for a series of concerts with the original line up of the band (Peter Deacon, John Dallimore, John 'Chief' Coker, Keith 'Stretch' Kerwin, and Greg Henson). From 1981 when English recruited the band for a tour of Germany and Scandinavia (where they won the award for 'Best Concert by Visiting Artist' in Norway) until the release of 'Beating the Boards' in 1983 and their second tour of Scandinavia, Jon English and the Foster Brothers toured Australia and New Zealand, also releasing the albums 'Some People' and 'Jokers and Queens' (with Marcia Hines), and selling out places like Twin Towns on the Gold Coast for a week at a time. They also toured as support for Dolly Parton and Kenny Rogers in 1986, the same year the band released their last album together 'Dark Horses'.
Time: Door's open 7:45pm for an 8pm start
Cost: $44 members, $49 non-members book through West's 
A Taste of Honeysuckle @ A Secret Laneway next to Silo
Honeysuckle residents and traders are proud to launch A Taste of Honeysuckle on Saturday night 22 June, kicking off at 6pm. Located in a secret laneway you will find ten local Hunter wine and cider producers along with Honeysuckle restauranteurs in pop-up laneway stalls for a culinary experience that will delight the senses. To make the night even more magical, the annual "L!vesites - Winter Heat" festival lights up at sunset. Flaming sculptures, fiery street performances, live music and a new dazzling lantern parade will set Honeysuckle aglow. The Maritime Centre lawn will be alight with candles, fire logs will line the Promenade and fire sculptures will keep away the winter chill. Moreover Newcastle Youth Orchestra will entertain the crowds with their performance -From Russia with Love.
Time: Kick off 6pm
Winter Heat @ The Maritime Center Lawn
The annual Livesites' Winter Heat festival lights up at sunset. Flaming sculptures, fiery street performances, live music and a new dazzling lantern parade will set Honeysuckle aglow.The Maritime Centre lawn will be alight with candles, fire logs will line the Promenade and fire sculptures will keep away the winter chill. If you are coming into town this Saturday evening you might like to pass by Harbour Square where theNewcastle Youth Orchestra will be entertaining with their performance of - From Russia with Love. If it is raining they will be performing within the Newcastle Museum.
Time: Kick off 6pm
Thursday 4th July
Deborah Conway & Willy Zygier @ Lizotte's
Conway & Zygier explore the breadth of sound that can be extracted from acoustic instruments and vocals. The sound is endlessly inventive within the bounds of real. Their new album "Stories Of Ghosts" is an examination of Old Testament themes, of existential uncertainty in the face of unchanging beliefs and coming to terms with the endless trade off that life is full of - loss leavened with happiness, tragedy with humour and sadness with joy. Building on the acoustic instrumentation of 2010's Half Man Half Woman, Stories Of Ghosts adds layers of wood, strings & air, creating a sound that veers from delicate & melancholy to savage & fierce.
Cost: Main meal and show $76, or show only for $34, from Lizotte's 
Winter Wander @ Hunter St Mall
Join Renew Newcastle for Winter Wander, a free, guided walking tour of the newest activated spaces in Newcastle's CBD.
You'll discover handcrafted upcycled vintage industrial style furniture; a world-champion stone-carver's studio and shop; dedicated shopfront for Newcastle's Olive Tree Market; handcrafted slate homewares; a therapeutic, multi-sensory sculpture studio and the opening of a new exhibition of works by Kate Parker.
Join us straight after work for light refreshments from 5pm at Make Space (200 Hunter St Mall) before heading off at 5.30pm for a tour of new Renew Newcastle projects at The Emporium, where you can also view 0 to 100: The Projects of Renew Newcastle, an exhibition celebrating the activation of 52 otherwise empty spaces with 100 creative projects since Renew Newcastle began in 2009. Shops at The Emporium will be trading till 9pm!
Time: 5pm
More info: Renew Newcastle
Madeleine Cruise's Work Showcase @ the Lock-Up Cultural Centre
Sydney Artist Madeleine Cruise is showcasing her latest textile works at the Lock-Up Cultural Centre in Newcastle. Madeleines work explores the real and imaginary worlds using a colourful abstract language Which is the style she has undertaken since she graduated.
Time: 5:30 - 7:30pm
More info: Madeleine Cruise