What's On In Newcastle? Nova And The Experience, Major Leagues, Karise Eden & Run DMT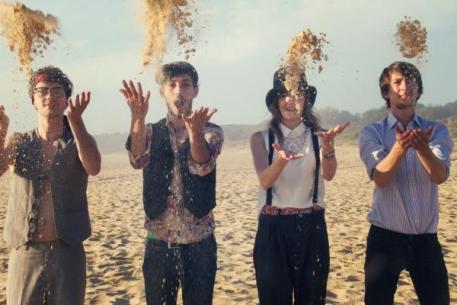 Thursday 6th February
Shane Nicholson and Gregory Page @ Lizottes
Shane Nicholson and Gregory Page first met in 2013 at Tamworth Country Music Festival. After mutual admiration of each others work the two have developed a great friendship over the years and as a result will be taking the stage together and performing the music they both become known for.
Tickets: Lizottes
Friday 7th February
Major Leagues @ The Small Ballroom
Major Leagues are set to celebrate the release of their debut EP Weird Season with their first-ever Australian headline tour throughout February 2014, supported by Wagga Wagga-via-Fitzroy outfit The Ocean Party.
Major Leagues' three debut singles from Weird Season – 'Teen Mums', 'Endless Drain' and 'Silver Tides' – have catapulted the four-piece into the global blog sphere in 2013, drawing praise from tastemakers in the USA, Canada, South America, Asia, Europe, South Africa, and the UK - where they have just picked up airplay on leading digital radio station Amazing Radio.
At home in Australia, 'Endless Drain' was named #10 in Mess & Noise's Top Tracks of 2013 this week, after receiving nearly six-months of continuous rotation airplay from national broadcaster triple j. Australian community radio stations have already provided unwavering support for Weird Season, with all three singles from the record receiving airplay support from the likes of FBi, Radio Adelaide, 4ZZZ, RTR, RRR, SYN FM and 2SER.
The band have spent a majority of their time in 2013 on the road, performing alongside Captured Tracks signings Beach Fossils (USA) and Wild Nothing (USA), as well as The Preatures, Violent Soho, Ball Park Music, and Jeremy Neale. The 'Weird Season EP Tour' will extend throughout New South Wales, Queensland and Victoria with The Ocean Party supporting at all dates.
Doors: 8:00PM
Tickets: Kingdom Sounds
Bloodshed Remains @ The Cambridge Hotel
Supported by  Taken By Force,  Crowned Kings,  Rust Proof,  Trainwreck,  HURTxUNIT & Staunch
Doors: 7:30PM
Tickets: $15 at Door
Karise Eden @ Lizottes
With Eugene Hideaway Bridges
Lizottes are proud to announce the voice you have all been waiting for! A very exclusive up close and personal show at Lizotte's with the incredible KARISE EDEN.
Karise Eden's voice can move a nation! In 2012 she won The Voice with her uniquely soulful renditions of classic songs. She broke records for the most number of singles in the national sales chart and she had the biggest selling album nationally for an Australian artist that year. This summer, Karise Eden steps out of a fresh spell of songwriting to perform songs from her double platinum album My Journey as well as to road test new material in small and intimate venues. This will be a rare run of shows with stripped back, minimal production by arguably Australia's most promising female vocalist. AND A SPECIAL TREAT!
Born in New Orleans, Eugene is a nomadic musician living his life on the road travelling from America through Europe, to Australia with many other stops in between. A towering man with a huge voice, playing an unparalleled brand of blues, oozing enough genuine charm to light up a small city. If you like your blues music laced with soul, funk, gospel and rock, delivered with buckets of class and warmth take a listen to Eugene's musical catalogue.
Doors: 8:00PM
Tickets: Lizottes
Saturday 8th February
Nova and The Experience @ The Lass O'Gowrie
Sydney's Indie Pop favourites Nova & the Experience (N.A.T.E) are touring the east coast with their 'Shipwrecked' single release playing in style at the Lass O'Gowrie
2014 is a year full of big possibilities for Nova & the Experience. The previous 12 months for the Sydney based indie pop band was one of growth and significant achievement. It saw them release their 3rd EP, There's Something Here, their most popular and critically acclaimed release to date. The lead single "Dragonflies and Waterfalls" received Triple J airplay, and "We Are the Children" was mentioned on numerous US & Canadian music blogs.
They won a competition against 100's of bands to open for Stonefield and Amy Meredith at the Ben & Jerry's Openair Cinema Charity Launch. As well as playing the sold out Red Deer Music and Arts Festival with The Grates and Kingswood.
This all culminated in the band receiving the inaugural First Break Development award from Commercial Radio Australia and the Mushroom Group.
Tickets: Free
Run DMTÂ  DJ @ The Great Northern
BASE is back in Newcastle and this time we have teamed up with Chinese Laundry to bring you RUN DMT at The Great Northern Hotel.
RUN DMT's sound reflects a torrid love affair with heavy basslines, thunderous beats, and haunting melodies. Formed in Austin, TX in the summer of 2010, RUN DMT approached heavy bass music without borders; touching on Dub-step, Drumstep, Trap, Moombahton, atmospheric Downtempo and more. In his short 2.5 year of history he has made high profile appearances at Electric Daisy Carnival, Coachella, The Vans Warped Tour, Camp Bisco, Nocturnal Festival, Wakarusa, Snowball Music Festival, and Counterpoint Fest . His original productions and remixes have become recent playlist staples for DJs ranging from Bassnectar to Flux Pavilion to Excision to 12th Planet and beyond. RUN DMT has also done official remixes for the likes of The Who (yes THE WHO), Major Lazer, Dimitri Vegas & Like Mike, Fitz & The Tantrums, Figure, and Hundred Waters.
In 2011, RUN DMT's first official release, "Drop Top" hit the top of the Beatport charts and remained in the Top 10 for six weeks. "Drop Top" was followed by a series of high charting EPs and a high profile inclusion on the Mortal Kombat video game soundtrack with "Baraka's Theme". RUN DMT capped off the year with a Mad Decent-released mixtape "Year of White Rabbit".
In June 2012, RUN DMT released his debut full length album "Union of Opposites", featuring Chali 2na, Dj Swamp, and Zeale, which hit #2 Dubstep and #11 Variety Charts on Beatport. RUN DMT closed out 2012 with a brand new 58-track, 140 minute mixtape, "The Existential Mix".
In 2013 Run DMT's official remix of Major Lazer's "Jah No Partial" was released thru Mad Decent/Downtown. 2013 also saw the release of his remix for Dimitri Vegas/Like Mike/Lil Jon's "Madness" on Dim Mak Records. A new Self-Titled 8-Track EP dropped in July 2013 to press acclaim from Vice, Rolling Stone, Magnectic Magazine, Thissongissick, and many other crucial tastemakers.
Doors: 9:00PM
Tickets: Moshtix or $20 at the Door
Hidden Intent @ The Small Ballroom
Adelaide's Hidden Intent formed in early 2011 bassist/vocalist Chris McEwen (Abyzmal, Troops of Doom, Obsidian Aspect) and lead guitarist Phil Bennett (Desert Eagle, Metallica Black Album Tribute, Iron Maiden Tribute) decided to form a thrash metal band after their current bands fell through. The two came up with material quickly, the music heading into an old school thrash sound mixed with elements of 90's groove metal and blackened thrash. After a brief encounter with a drummer and a long search for a replacement, Jay Rahaley (Blood Mason, Treachery) was recruited to complete the line up. Hidden Intent's sound is a throwback to the old school days of thrash metal i.e. early Metallica, Megadeth, Slayer, Coroner, Annihilator. Punters have often said Hidden Intent's live shows/sound has been described as 'Good time thrash', 'energetic', 'amusing crowd interaction' and a reminiscence of Testament and Slayer . 2013 saw Hidden Intent in good form having toured South East Asia including headlining the Bangkok Thrash Festival as well as releasing their anticipated debut album "Walking Through Hell" independently and releasing a music video on YouTube for the title track of the album. Now in 2014, these South Australian Thrashers embark on an Australian tour to launch their debut album, playing Adelaide, Sydney, Newcastle and Perth plus more TBA They hit up The Small Ballroom in the centre of Newcastle on Saturday February 8 with 4 local supports in the form of Grim Demise, Cerebral Contortion, Balescream and Abacination.
Doors: 7:30PM
Tickets: Kingdom Sounds or $10 at the door
The Porkers @ The Cambridge Hotel
With Local Residents Failure & Jay Wars
Founding member Phil Barnard and Pete Cooper have been coaxed by Soundwave organiser A.J Maddah to bring The Porkers trademark sound of skanky reggae/ frantic ska/ punk metal back to the big stage and they plan on not doing by halves, with a fresh new ensemble that boasts members from the likes of Machine Gun Fellatio, On Inc, Pre_Shrunk, Cranky and Los Capitanes.
Newcastle will get the hometown boys first show in 5 years, and their only pre-Soundwave show, where they'll confirm the legend that is The Porkers.
Doors: 8:00PM
Tickets: Big Tix
Sunday 9th February
J.J.King @ The Grain Store
J.J.King is a Jazz musician playing guitar, harmonica and singing. He covers material from early blues and Jazz to Jazz versions of modern hits and his own songs and instrumentals. From Ireland, J.J. takes his inspiration from artists like fellow Irishmen Van Morrison , Mary Coughlan , Freddie White and Louis Stewart to U.S. greats Mose Allison,leon Redbone and Tony Bennett.
Doors: 2:00PM
Tickets: Free
Lynwood Slim and Igor Prado @ Lizottes
He's young, Brazilian and plays guitar left-handed and upside down but Igor Prado is one of the most exciting young musicians in modern blues and he is coming to Australia soon with master harpist Lynwood Slim. Modern blues does have a reputation for being an old man's game but Igor Prado has been bringing his tasty West Coast and old soul and funk playing to the world since his 20s and teaming up with many of the modern masters. His touring partner this time round Lynwood Slim is an obvious candidate with the two of them making their acclaimed album Brazilian Kicks in 2010 but he isn't the only one. Igor Prado has played with harp players RJ Mischo, Mark Hummel, Rick Estrin (Little Charlie & the Nightcats, Buddy Guy's brother Phil Guy and headliner of the Fortitude Valley of Blues in 2009. 'I had to play with this guy, he burnt the stage' Said Lynwood Slim when he first saw Igor. Brazilian Kicks was the product and it is the perfect union of West Coast cool and Brazilian swing Lynwood Slim is no stranger to Australia. He has visited many times in the last decade, including as the headliner for last year's Queensland Festival of Blues. He is a man of style and taste and harmonica player who of great experience and soul, with memorable collaborations over the years with musicians the caliber of guitarist Junior Watson. Lynwood Slim and Igor Prado will be joined onstage by Brisbane's Morningside Fats Band who are touring to support their 'Speak No Evil' album release which has spent the last three months in the Top 10 of the Australian Blues Charts. Chain award winner Ali Penney will be joining the crew on keyboards.
Tickets: Lizottes
Tuesday 11th February
HSPA 2014 ' Oh What A Night' @ Civic Theatre Newcastle
Join our wonderful and gifted singers, dancers, actors and musicians for a concert showcasing a selection of the best performances from across the school.
From Primary ensembles through to HSC practical submissions , orchestras to solo performers, drama pieces to musical theatre, ballet to modern dance, this night promises to entertainment and delight.  Don't miss your chance to see Hunter School of the Performing Arts' night of nights!
Doors: 7:00PM
Tickets:Â  Ticketek
Wednesday 12th February
HAPPY END w/ World's End Press, Goldsmith, Huskarl & DJ'S
You should come to Happy Club, it's going to be super hip with the coolest people. It will make you ecstatic and you will throw down dance bombs. Think dark corner pashing, sin coated couches, sweaty dance floors and smokey conversations, that is what we are about. The music will crisp with the latest & classic indie anthems. There will be live sets early on and special guest DJ sets each week.
Doors: 9:00PM
Tickets: Free
Kibbs & Mac Folklaw supporting HeartKids NSW @ Lizottes
Having spent 2013 recording with local music icon such as Justin Ngariki, Kibbs and Mac are excited to announce the release of their debut EP The Message followed by a series of live performances starting at Lizotte's Newcastle on 12 February 2014. After more than a decade performing in various acts along the east-coast of NSW, Peter Kibble (Kibbs) and Kim MacNaughton (Mac) have spent the last two years writing original compositions to showcase a new act Kibbs & Mac Folklaw. Folklaw is about songs that acknowledge life "the good bits and the not-so-good bits" and celebrating that, regardless. Apart from launching their EP, Kibbs and Mac will be raising awareness of Childhood Heart Disease and donating a percentage of the proceeds to HeartKids NSW. The Kibbs & Mac Folklaw EP launch will include a full band featuring Mac (vocals), Kibbs (Bass, vocals), Nadine Quinn (backing vocals)Darren Gould (guitar, vocals), Lee Rolfe (guitar, vocals), Chris English (Keys) and Chris Lowe(drums). The evening will also feature special guest appearances by James Osborn, Amy Vee, Dave Carter and Justin Ngariki.
Tickets: Lizottes