7 Great Apps for Newcastle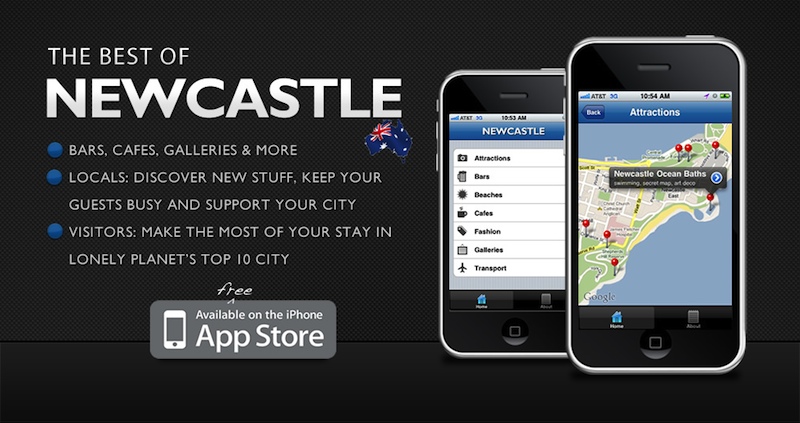 If you're new to town and looking for somewhere to stay for the night or even if you've lived here all your life and just don't know where anything is Urban Insider has the top 7 free apps no Novocastrian-to-be should be without. From places to see mind-blowing artwork to where you can find the best steak, we've even got your transport covered! There really is an app for everything and the list we've compiled will ensure your Newcastle experience is everything it should be. First up you'll have to get where you're going, so here's a couple of apps we thought you'd need.
NSW Transport Info 131500
The 'NSW Transport Info 131500' app may not have the most creatively imaginative name but what it lacks in imagination it more than makes up for in pure handyness. This little gem of an app will let you look up almost any form of public transport in Australia, but more importantly it works in Newcastle! From busses to ferries this app can give you the exact rout you'll need and includes an up to date timetable. If that wasn't enough this free app will even tell you how long your trip will take! So jump into the app store and start the download, you'll never miss another reservation.
mTAXI2
If public transport isn't really the way you envisioned yourself arriving to your nightly festivities, then mTAXI2 is app for you. This app allows you to book and track your cab. The awesome thing about this app is that it's Crime Stoppers approved, this means that you are guaranteed to get a qualified driver and a legitimate taxi so the only thing you need to worry about is having a good time.
Australia Restaurant Finder
This app comes pre loaded with more amazing food destinations than you could ever want. This app finds your location and tells you what restaurants are near by and even orders them by distance, so no more will you have to wonder around searching for that awesome place you went to that one time.
Newcastle Art
This app is your one stop guide to everything artsy in Newcastle. The Newcastle Art app allows you search the area for all current and up coming artistic events; you can view info on the artists as well as take a peek at some of their works. The perfect way make sure you find an exhibition that reflects your views on the artistic world.
Newcastle After Dark
This app is a must have for anyone and everyone who likes to go for a night out in Newcastle. The Newcastle After Dark app helps everyone stay safe and enjoy their night, it tells you where you can find a taxi, the closest bus stop and where the train stations are. It gives you tips and tricks on how to stay safe in town and on top of all this, it tells you where the best pubs and clubs are and has a built in phone directory so you can call ahead. It's definitely a top app for a top night.
Newcastle
This app is quite simply named 'Newcastle'. This app has everything Newcastle related in it, if you want to find the best shops, best cafes, best bars, practically the best of anything in Newcastle, then this app will show you where it is and how to get there. Up coming events can be found in bottom gallery along with every business number you will every need, throw in its built-in Google maps you have yourself one app you just can't be without.
There's nowhere quite like Newcastle and now you have the galleries, the restaurants and nightlife all rolled into one mind blowing list of apps. So get the apps and find out what Newcastle can offer you!