Newcastle Artist Ben Kenning - Return from Red Gate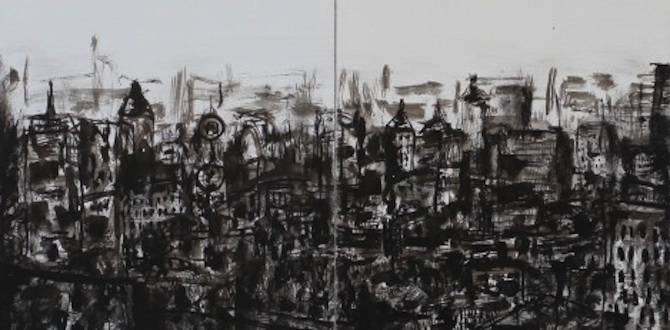 Ben Kenning, Untitled, Ink on Canvas
The Red Gate Gallery is housed in the historical Dongbianmen Watchtower in Beijing, China. The gallery's residency program is an international program that allows artists the opportunity to live and create work in China.  The residencies are 1-6 months in duration.  The gallery provides support, encouragement, access to studio housing, and invitations to Red Gate exhibition openings as well as private dinners after the events.
Newcastle based artist Ben Kenning has recently returned from China as part of the Red Gate artist in residency program.
While in Beijing, Kenning lived and worked in an arts district on the outskirts of the city approximately 30 minutes from the Forbidden City and Tianamen square.  Correspondence with him was via email as the Chinese government has banned the use of Facebook due to its use as a tool in pro-democratic demonstrations.
His descriptions and observations of life in China have already influenced his new style of art.  He began practicing with the use of calligraphy brushes, long singular strokes with wet and dry marks.  He explains, "there is an expressive quality, emotion, freedom, subtlety, grace and mastery involved in this style of painting…I find it to be the highest form of individual expression" Kenning has been researching the art of Huang (1865-1955), the renown Chinese brush painter and calligrapher of the "Xieyi" or freehand school. Kenning describes, "within this style of painting the artist uses ink, with black, green, blue and red ink washes of the Chinese landscape, animals or people.  The use of ink and dramatic brushwork capture the artists feeling and uniqueness as well as his perception of subject matter." Through his research he found Huang studied the Tang, a text that describes the notion "to trace the past in order to initiate the future".  This is the motto Kenning has adopted as he explores the vast differences in Eastern techniques and translates them into his own practice.
His current series reflects his environment and new associations in China.  From the dark grey skies and snow of winter to the smell of coal and lingering fog of pollution.  Skeletal trees and monolithic concrete buildings as well as the stray animals (he befriended a ginger cat whose underbelly is covered in coal) have become subjects in his work.
Kenning marvelled at the contrast of old and new so reflective of current Chinese society.  Interestingly this concept is now mirrored in his own art practice.  Previous tribal motifs and thick paint on large canvases give way to the delicacy of ink painting on rice paper.  Still paramount is mark making, and in this he is finding a new style.  There is a boldness and confidence in his ink paintings that either challenges tradition or imparts western chutzpah. From his past and into his future, it is a style that is uniquely Kenning.
Kennings next exhibition is yet to be announced, however, his works can be viewed via his website.