Nook: Emerging Newcastle Designers Launch New Store Space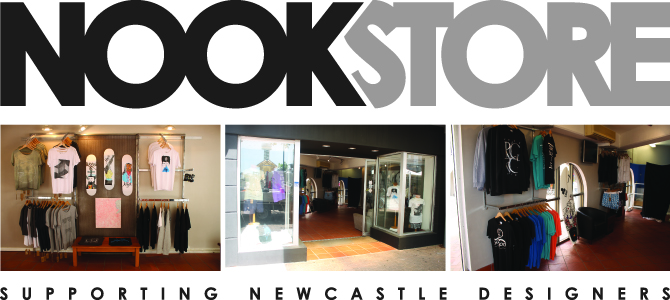 The latest in the string of great local projects supported by Renew Newcastle is Nook Store (or just "Nook" if you like). Nook will take up residence in Hunter St mall and offers a shop space supporting local, emerging designers.
To celebrate their launch, the Nook team is holding a shindig this Sunday, 11 march from 5 - 8pm. Head along to enjoy sales on all stock, new releases from Ruby George & One Undone & live music from The Theaves & Thomas Lawson.
We caught up with Nook's Brodie Bannerman to find out more about the project & launch…
How did you come up with the idea for Nook?
The idea with Nook came about when we officially got a space through Renew Newcastle, the location was on a corner, another word for corner is Nook. Everyone that is a part of Nook stocks their labels in the shop, we're all design inclined.
What does a program like Renew Newcastle mean for emerging business people & designers?
Renew Newcastle is great. It means everything and some more for emerging designers to be given the opportunity to utilise a retail space of your own for your business. It's an opportunity that will not come about too often!
What's been the most fun part of setting up Nook?
The most fun part setting up Nook would probably be collaborating with the other designers setting up the shop, to an extent we are in competition with each other but we all help each other with what we're doing. It's weird being on the same team but not really if that makes sense. We all have a similar vision with where we want to go with our own businesses, so that also helps in motivating each other.
What's been the biggest challenge?
The biggest challenge would be engaging people and customers. We're are all new, independent labels that do not have as big of a following as other brands/shops. We're local, but that only goes so far compared with the big guys.
At the moment you stock goods from Atgsl, Ruby George & One Undone. Give me a rundown on these brands…
The brands aren't just stocked in the shop, the people behind them run the shop.
One Undone (my label) design and print pretty much all their stuff, streetwear inclined with a little bit of fashion.
Atgsl skateboards is run by skateboarders, supporting skaters whilst make clothes and decks with their own designs.
Ruby George are run by graphic designers, that also design a fashion apparel line as well.
I came to work with them as we sort of all new each other and what they were doing before this opportunity came about.
 Are you interested in expanding your range/stockists? Should interested designers get in touch with you?
Nook is about supporting Newcastle designers and, with that in mind, in time we will definitely be looking to support and stock emerging local labels and initiatives. Being a designer myself, I understand how hard it can be to find an opportunity to showcase what you are doing. Any designers that are interested in developing what they're are doing should email us here at Nook or swing by the store and we will see if we can help you out.
Nook will be open 7 days per week, from 10am - 4pm Monday - Saturday and 10:30am - 2:30pm on Sundays. It's located next to Sportsgirl, opposite Sanity. Don't forget you can head along to the big launch this Sunday, 11 March from 5pm.