What's On In Newcastle? The Drones, Beer Pong Championships And The X Factor Tour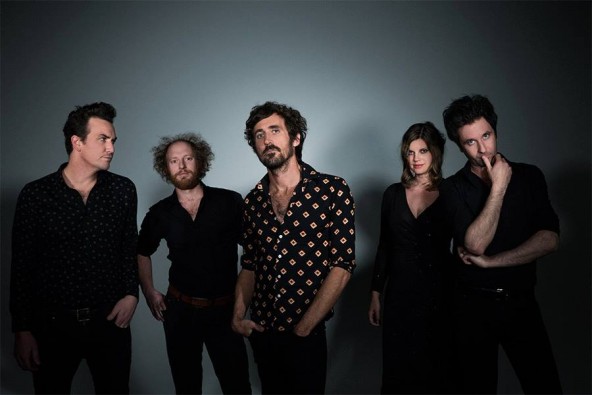 We have plenty to suit all tastes this week in Newcastle with plenty of bands, state beer pong championships and a circus with a difference!
Thursday 21st
Empire @ Newcastle Civic Theatre
Direct from its world premiere smash-hit season at Times Square in New York City and sold-out seasons across Australia, EMPIRE is the most jaw-dropping show ever seen on a spiegeltent stage. Smashing through the borders of comedy, circus, vaudeville and burlesque, EMPIRE presents the sexiest, most daring artists from across the globe.
Spiegelworld comes to town with its sumptuous 700-seat spiegeltent and wondrous beer garden. This heritage travelling venue, made of antique wood, bevelled mirrors and stained glass, features the most intimate stage in town.
So grab a drink from the bar, take your seat and enjoy the most outrageous night of your life. To make the occasion extra special, book one of Spiegelworld's luxurious velvet seating booths with a group of friends or cuddle up at a VIP cocktail table.
Performances almost every night until December 8th.
Tickets: Ticketek
Friday 22nd
The Drones @ The Cambridge Hotel
A Moat You Can Stand In is the second single from The Drones critically acclaimed sixth studio record I See Seaweed. A brutal rock track, that is a direct and raw reflection of The Drones from days gone by, and a timely reminder that even though their sound has broadened over the years, it has by no means softened.
" the blood and guts pub rock attack of A Moat You Can Stand In could have been found lying on the floor of the Bondi Lifesaver in 1979" The Age

"A Moat You Can Stand In's religious clubbing is as dense, angry and unrelenting in its attack as anything they've done" Drum Media

"A Moat You Can Stand In' wrenches us out of our brains and back into our bodies."
Mess and Noise
The Drones finished their I See Seaweed national album tour earlier this year by obliterating the iconic Sydney Opera House with a blistering set of new songs peppered with long time favourites, then jumped on a plane to play Primavera Festivals in Spain and Portugal. 2013 has seen the band undertake their largest and most successful headline tour and release their most successful record to date.
In September they return to the stage for a second national tour to the delight of fans who missed out on tickets to the previous sold out shows. Joining them for the Australian shows will be Melbourne collective Harmony.
w/ guests Harmony
Tickets: www.bigtix.com.au
NSW Beer Pong Championships @ Panthers Newcastle 
This is your chance to become the first NSW Beer Pong Champion & win a holiday to Thailand!
Who said drinking beer and having fun couldn't get you anywhere? Beer Pong Newcastle has pondered this and is very excited and proud to present the first official NSW Beer Pong Championships. This is serious business with the wining team earning themselves a trip to Thailand! That's definitely something to travel to Newcastle for.
It is expected that 100 teams of two will battle it out to become the first NSW Beer Pong Champion!!
Major prize is a Flight Centre voucher valued at $3000. There will be some awesome prizes and trophies for the teams who finish 2nd and 3rd as well. Each team to register will get a free stubbie cooler so no one goes home empty handed! Team registration is only $80 ($40 per person). The first 20 teams to register will get a free white Beer Pong Newcastle t-shirt! Registrations opened on 1 August & closes on 1 November so if you are interested in registering a team please register here http://b-pong.com.au/Register The draw will be announced one week after registrations close.
Entry requirements:
18 years of age or older
For rules visit www.b-pong.com.au
Team colours and outfits are encouraged as well as team names
The format for the event will be Group stage, Last 16, Semi-finals and Final. There will be three brackets of 32 teams, a total of 96 teams!
You don't have to be from Newcastle to compete, you can have a mixed team, girls team or a guys team.
Hit The Bricks Street Art Festival @ Location all around Newcastle
Bringing together some of the most skilled and esteemed creators of street art, Hit The Bricks will be coming to Newcastle in November to bring art to the streets.
Culminating over three days, the festival will play host to an expansive selection of renowned artists all using walls as their canvas. The public will be invited to witness art being created before their eyes, and get up close to the artists creating them. Certain locations will offer food and drinks for guests and a map will be devised denoting locations of walls for visitors to follow. A bike tour will also be taking place for people to travel from wall to wall. Opening with an artist panel at the Newcastle Art Gallery on Friday 22 Nov, and a few surprises to be announced later, Hit The Bricks will be like nothing you've ever seen.
The festival will take place from Friday 22 to Sunday 24 of November 2013.
For locations and more info:Â www.lookhear.com.au
Saturday 23rd
 X Factor Live Tour @ The Newcastle Entertainment Centre
Australia's favourite entertainment TV show – THE X FACTOR is coming to a venue near you! The ultimate music experience continues as THE X FACTOR Top 5 contestants deliver a spectacular live show in a nationwide concert tour. You watched them on TV, voted for them and now get to see them in a sensational live show filled with all your favourite songs from the series.
An exclusive pre-sale begins Sunday 6th October ensuring all loyal viewers have first chance to purchase tickets to what will be an unmissable showcase of Australian talent. Go to the X Factor Facebook page this Sunday night (6 Oct) at 6.30pm for all the details. The password to buy before the general public is �VIP'.
The final lineup for The X Factor Live Tour 2013 will be decided on tomorrow night's live show, when the top five will be revealed!
The Ultimate X Factor Experience doesn't end there. The fans can get up close & personal with their favourite contestants with an opportunity to buy VIP Meet N Greet Tickets and Platinum Soundcheck tickets.
Tickets: www.ticketek.com.au
Alex Lloyd @ The Small Ballroom
One of Australia's most acclaimed singer-songwriters, the multiple ARIA Award winning Alex Lloyd, has today announced his first tour back in Australia since moving abroad in 2008 which will see Lloyd and his full band playing shows along the East Coast of Australia throughout November / December in support of his new album Urban Wilderness on the Urban Wilderness Tour.
The Urban Wilderness Tour will follow the 18 October release of Lloyd's long awaited new album, Urban Wilderness. Featuring songs of family and romance with tracks written across the globe, Urban Wilderness will be released five years on from his last solo effort, 2008's Good In The Face Of A Stranger. Urban Wilderness is 12 tracks of pure, pop-tinged song craft on which Lloyd is ably assisted by fellow artists Shane Nicholson and Jim Moginie (Midnight Oil).
Alex said today "It's been so long since I've toured Australia with a full band. I'm really looking forward to playing some tracks from my new album 'Urban Wilderness' and of course some of the old favourites".
Special guests on the tour are Central Coast 'dream-folk' duo The Young Lions. Formed back in 2011, they played just two sold out Sydney shows before one half of the band set off to travel the world. Two years and many continents later the boys have made their way back home and will be releasing their debut album in 2014.
Tickets: www.oztix.com.au & the venue
Total Annihilation @ The Cambridge
Total Annihilation was the first ever event hosted by Damage in 2011, it has now been running for three years in a row, featuring some of the craziest line ups with headliners such as Sceptic & Dseeva ft. Dj Skae & P-Smurf from Sydney City, who have always delivered a jaw dropping experience at this event.
Total Annihilation has improved each time, with a dream to put an event on that would make people take notice and want more, even people outside the hip hop community to experience what hip hop culture is all about in Newcastle. Through natural means it has become something like no other, with the biggest influence being another promoter in the Hip-Hop community: Randy from Basic Equipment Crew and others who have run the most amazing shows with some very talented artists around the world.
Tickets:Â www.bigtix.com.au or The Rock Shop
Sunday 24th
Enormity Book Launch @ Depot on Beaumont 
Enormity, the debut novel by Nick Milligan, will be officially launched on Sunday, November 24. The party will take place at Depot On Beaumont's stunning new VIP third level.
There will be a reading from the novel by Milligan and paperback copies of Enormity will be available to be signed and purchased throughout the event.
LUCKY DOOR PRIZE: Someone who attends the launch will receive a FREE KINDLE!
DJ Tim Coffey will be behind the decks, playing some choice cuts of indie greatness.
COMMENTS ON ENORMITY:
"Raunchy and rowdy, poetic and perplexing, Milligan's Enormity is aptly named. Much like another favorite Aussie export, Nick Cave, Milligan doesn't shy away from the grotesque and the absurd as he shines his light on the terrible beauty of the human condition. This is compelling fiction that leaves you wanting more…"
- Jace Everett, American songwriter, writer/performer of True Blood theme 'Bad Things'
"This book has it all. Intense imagery. Brilliant insights into the darker aspects of the male psyche. Not to mention sex, drugs and giant alien spiders! Milligan has delivered a vivid SciFi epic with the greatest subliminal soundtrack since Nick Hornby's High Fidelity. I hope it's the first book in a new genre: neon-SciFi"
- Dr Mitchell Hobbs, University of Newcastle
More info: Facebook Events Page
Wendy Matthews @ Lizottes
WENDY MATTHEWS is thrilled to announce her brand new album The Welcome Fire will be released August 23. The Welcome Fire is Wendy's first original album in 12 years. Wendy will perform songs from the album LIVE from September 1st. The Welcome Fire is released through Fanfare Records and is out August 23.
Tickets for the LIVE shows are on sale now.
Beautifully evocative and superbly crafted, The Welcome Fire is an album filled with personal, poignant lyrics and reflective melodies. The album is undoubtedly contemporary in sound, yet the voice is unmistakably that of Wendy Matthews. The Welcome Fire not only re-establishes Wendy as one of Australia's most influential and iconic voices and artists but also marks a new chapter in her career. There are very few artists in Australia who can come close to Wendy Matthews and her stunning credentials; seven Arias, a massive 19 hit singles, and seven platinum-plus selling albums. Her career-defining album Lily sold over 500,000 albums and over 300,000 singles of her now signature song The Day You Went Away when released in the mid 1990's.
The Live shows will feature Wendy performing some of her biggest hits including Standing Strong, The Day You Went Away, If Only I Could, Token Angels, Fridays Child & I Don't Want To Be With Nobody But You as well as tracks from the new album including the first single Follow You Down. Don't miss Wendy Matthews LIVE with her band.
Tickets: Lizottes
Tuesday 26th
 Taco Tuesday @ Casa de Loco
Get your mitts on $12 Taco Tuesday at Casa de Loco! Get three soft shell tacos for $12 and a jug of sangria for $20.
Come and connect with friends, meet new people and melt into the Mexican culture. Join our fiesta, celebrate what's great about Newcastle, Mexico and LIFE!
Wednesday 27th
New Professors Talk @ Newcastle Museum
Join us to welcome Professor David Perkins.
Twenty-first Century rural health services: fit for purpose? Professor David Perkins will outline challenges and implications for health policy makers, service providers, educators and rural residents, and argue for new service models that address today?s rural health needs. David Perkins is a Professor of Rural Health Research at the University's Centre for Rural and Remote Mental Health in Orange. His research focuses on mental health services in rural and remote settings.
Refreshments will be served after the lecture.
Time: 6.15pm for a 6.30pm start
Tickets: This is a free public lecture open to the community.